By Jack Smith
While all of our featured restaurants offer a plethora of homemade soups and salads, I'd like to focus on two of my favorites, Caesar salad and she-crab soup. Most food-historians believe the Caesar salad was invented in the 1920s by an Italian immigrant named Caesar Cardini, a restaurateur with restaurants in both Mexico and the United States. On July 4, 1924, Cardini ran out of supplies at his restaurant, Caesar's, in Tijuana, Mexico (where Americans flocked to avoid prohibition restrictions). Improvising with what he had left on hand, the first Caesar salad was tossed (or so the story goes).
My all-time favorite soup is she-crab, a true southern delicacy. History tells us that she-crab soup was first made in Charleston, South Carolina, in the 1920s at The Rutledge house. There the butler, William Deas, was asked to come up with something special for visiting President William Howard Taft. We are lucky to live in a southern town that offers several versions. My favorite is found at…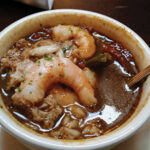 Angry Tuna
1701 S. Pier Park Drive, Suite 155, PCB | (850) 235-4632
One of Angry Tuna's specialties is their Seafood Gumbo. This delicacy is a delicious mix of gulf shrimp and other seafood so fresh it was probably swimming only a few hours ago. Fresh garden vegetables and a homemade broth give this dish a flair straight out of New Orleans.
The Shrimp Boat
1201 Beck Ave, Panama City | (850) 785-8706
shrimpboatpc.com
The Shrimp Boat Lobster & Shrimp Bisque is something you only wish you could make at home. You can't. This recipe is rich, creamy and jam-packed with juicy shrimp & lobster. When you dine at The Shrimp Boat, expect the best seafood on the Emerald Coast. This may not be Boston "but it's wicked good."
The Wicked Wheel
10025 Hutchison Boulevard, PCB | (850) 588-7947
thewickedwheel.com
The Wicked Wheel's Mandarin Walnut Salad is a refreshing choice any time of the year. Think romaine lettuce served with Mandarin oranges, walnuts, red onions, tomatoes, bleu cheese crumbles, and cranraisins served with raspberry walnut vinaigrette on the side. This salad is full of flavor with every bite.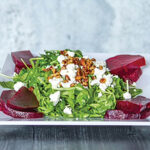 Christo's Sports Bar & Grill
2903 Thomas Drive, PCB | (850) 708-1878
christossportsbarandgrill.com
Our She crab soup is a local favorite! It is homemade goodness with just a hint of spice. We also offer other homemade soups in the cooler months. Or come in and try a delicious salad. We have a Greek salad, tuna or chicken salad and beet salad. If you like fruit, try our seasonal salad that varies each month with what fruit is available for the season.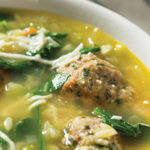 Mike's Cafe and Oyster Bar
17554 Front Beach Road, PCB | (850) 234-1942
mikescafeandoysterbar.com
Like all things at Mike's, the key word is traditional. This holds true for Mike's homemade Caesar salad, made with fresh ingredients like chopped romaine lettuce and parmesan cheese in a creamy Caesar dressing. When you go to Mike's you're at one of the oldest restaurants on the Emerald Coast; and when you go, tell Mayor that Jack said hi.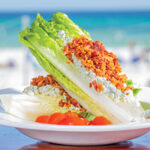 Schooners
5121 Gulf Drive, PCB | (850) 235-3555
schooners.com
The wedge with a view! A whole heart of romaine lettuce, bacon, blue cheese crumbles and blue cheese dressing sets this salad apart. Try it with our New Orleans style Seafood Gumbo!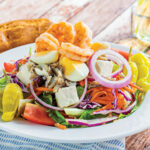 Capt. Anderson's Restaurant
5551 N Lagoon Drive, PCB | (850) 234-2225
captandersons.com
Try our Johnny's Special Greek Salad. Fresh crab meat and Gulf shrimp, iceberg lettuce and tomato wedges with Greek ripe olives, Salonika peppers, feta cheese and our famous Greek dressing. Crisp and refreshing!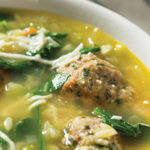 Paparazzi Gourmet Deli
2810 Thomas Drive, PCB | (850) 588-8244
Paparazzideli.com
Paparazzi Gourmet Deli offers a choice of three soups: chicken orzo, butternut squash bisque, and a traditional Italian wedding soup made with pearl pasta, fresh spinach, and mini meatballs. Pair with a Caesar salad for their daily soup and salad special ($9.95), or upgrade to their Greek or Papa salad for the perfect lunch.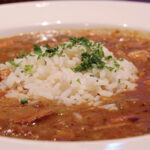 Boon Docks
14854 Bay View Circle, PCB | (850) 230-0005
boondocksfl.com
Like everything at Boon Docks, the Spicy Gumbo is fantastic. Gumbo appears to have started in Southern Louisiana about 1719 and was a combination of several cultures: African, French and Creole. The name comes from a West African word for okra, which suggests its origins may go back even further. Whatever the history, today's version at Boon Docks is as good as it gets. When you go, tell Hilary that Jack says hello.