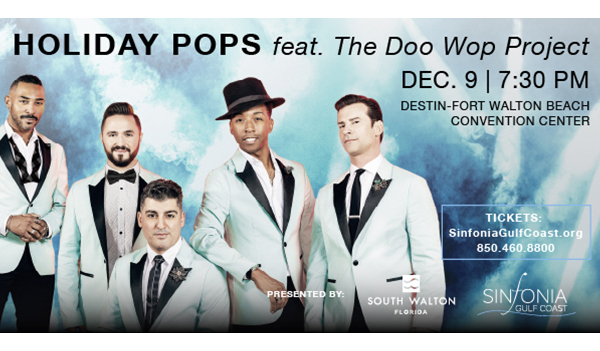 By Jack Smith
When I was a child growing up on the Chesapeake Bay, we had a special word for shrimp: bait. My first experience with shrimp as a food source was in the '60s and it came in the form of a shrimp cocktail. Fried, blackened, steamed were all in my future. Today, shrimp is the most popular seafood dish in the United States. Marco Polo wrote about how important shrimp was to the Chinese diet in 1280 and it only took us another 800 years to discover how tasteful and nutritious this protein really is. According to Forest Gump's friend Bubba, you can enjoy shrimp fried, steamed, blackened, broiled, raw, stuffed, in gumbo, BBQ, Kabobs, and Jambalaya. Feel free to add to this list.
Island Fin Poké Company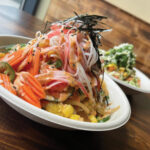 15500 PCB Pkwy., Suite 320, PCB | (850) 919-5656
islandfinpoke.com/panama-city-beach
"When I went to verify the brand for myself, I was shocked to find that its service is truly a part of the brand's culture," said the new PCB Island Fin Poke Compay's owner Kurt Fadden. "I'm so excited to bring something like this to Bay County. It's nice for people to have a place to go where they can count on a friendly atmosphere, affordable food and a nice environment."
Schooners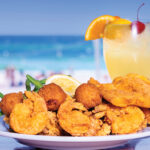 5121 Gulf Drive, PCB | (850) 235-3555
schooners.com
Enjoying fried seafood overlooking the white sand beach and emerald waters is CLASSIC. Schooners serves the tastiest trio of deep-fried Mahi-Mahi, Oysters and Jumbo Shrimp called the "Beach Party." Add a chilled glass of wine, ice cold local craft beer or a vodka based "Beach Bum," and you have the perfect makings of a lifelong beach memory!
Capt. Anderson's Restaurant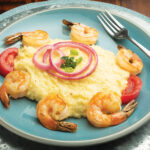 5551 N Lagoon Drive, PCB | (850) 234-2225
captandersons.com
Capt. Anderson's Grilled Bay Shrimp is FAMOUS in the South. Perfectly prepared with our own special seasoning and resting in melted butter… you have to taste to believe! Try it as an appetizer or an entree and don't forget to sop the seasoned butter with a fresh baked rice roll. Delicious! Dine early and watch the fleet unload.
The Wicked Wheel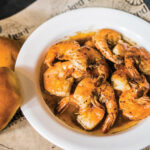 10025 Hutchison Boulevard, PCB | (850) 588-7947
thewickedwheel.com
Come to The Wicked Wheel and get transported straight to New Orleans with their famous Backfire Shrimp. Seasoned to perfection with their famous cajun flavor, this half-pound of fresh Gulf shrimp is sautéed in a spicy herb seasoning and butter and served with fresh rolls for dipping.
The Grand Marlin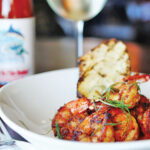 5323 N Lagoon Drive, PCB | (850) 249-1500
www.thegrandmarlin.com/pcb
Spotlighting succulent Gulf shrimp dishes any which way you like it, The Grand Marlin menu features everything from fried shrimp po-boys to the classic Southern staple, Shrimp and Grits. But if you've never tried their BBQ Gulf Shrimp dish, you're missing out! Featuring seared Chipotle-marinated shrimp tossed in a mouthwatering BBQ butter and Worcestershire blend, you'll be sopping up every last ounce of sauce with the toasted Gambino's bread!
Christo's Sports Bar & Grill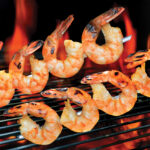 2903 Thomas Drive, PCB | (850) 708-1878
christossportsbarandgrill.com
Christo's is one of the best kept secrets on the Emerald Coast. A converted service station provides a laid back atmosphere that locals and tourists can't seem to get enough of. Try their Shell Island Grilled Shrimp, that was probably swimming a few hours ago.
Paparazzi Gourmet Deli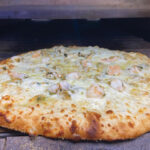 2810 Thomas Drive, PCB | (850) 588-8244
Paparazzideli.com
Get your shrimp and seafood fix with Paparazzi's mouth-watering "Grand Lagoon" pizza: shrimp, clams, garlic, olive oil, basil, and parsley topped with mozzarella cheese.
Boon Docks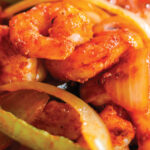 14854 Bay View Circle, PCB | (850) 230-0005
boondocksfl.com
Boon Dock's grilled shrimp are seasoned to perfection with our proprietary blend of Cajun spices, bell peppers and onions, plus two side dishes and hush puppies. Thank you to all of our wonderful customers for 22 years. We look forward to many more!
Señor Frogs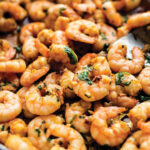 15005 Front Beach Road, PCB
senorfrogs.com/panama-city-beach
Our Cilantro Garlic Shrimp is delelctable. Fresh shrimp sautéed in butter sauce, garlic and cilantro, served with white rice, fresh cut veggies and lime.
American Charlie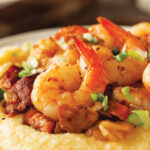 473 Richard Jackson Blvd., PCB | (850) 238-8340
americancharlie.com
You've got to try our Shrimp and Grits: jumbo pan seared shrimp with our own sharp white cheddar cheese grits, surrounded by a roasted tomato and grilled andouille low country sauce.