By Jack Smith
Man fished before written history using birds' beaks and bones for hooks, with plant fiber for lines. Piles of cast-off shells – shell middens – have been found in caves in most of the world, including the United States, and date back thousands of years as well. As civilizations evolved, spearfishing, hand gathering, trapping, ice fishing, and even kite fishing flourished as popular alternatives to more traditional angling, depending on location.
Religion may have brought the first settlers to America, but it was mostly fish that provided for them. For some time, eating seafood was, however, considered beneath American aspirations. I refer to a letter written by English adventurers to New Plymoth Settlers, as recorded by William Bradford, the first governor of the Plymouth Colony in 1623, "If land afford you bread, and the sea yield you fish, rest you awhile contented; God will one day afford you better fare." Clearly, Bradford (and those English adventurers) had never had feasted on Pompano, Mahi Mahi or Red Snapper. I may be prejudiced, but I believe the best seafood dishes I have ever enjoyed come from chefs in Panama City Beach, and I'm pretty sure if Bradford and his buddies had a few nights out to sample our local best, they wouldn't be quite so bold. I also know that if our fish were any fresher, it would be wearing lingerie. So head out to one of our favorites listed here and enjoy.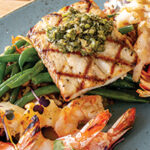 The Grand Marlin
5323 N Lagoon Drive, PCB | (850) 249-1500
www.thegrandmarlin.com/pcb
The Grand Marlin features seafood so fresh we print our menus daily to take advantage of the local catch. We are passionate about offering an ever-changing menu, made from scratch daily, using only the freshest seafood and highest quality ingredients. Come for mouthwatering dishes, island cocktails, relaxed atmosphere and beautiful views!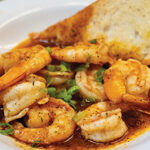 Christo's Sports Bar & Grill
2903 Thomas Drive, PCB | (850) 708-1878
christossportsbarandgrill.com
Come in and try our Shell Island Shrimp. Fresh bay shrimp prepared hand battered and fried, grilled or blackened with our house seasonings. Made with love. Have it as an appetizer or a meal.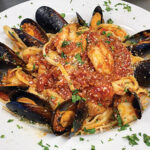 The Shrimp Boat Restaurant
1201 Beck Avenue, Panama City | (850) 785-8706
www.shrimpboatpc.com
The Shrimp Boat is known for its selection of high-quality seafood dishes. Start your meal off with Tuna Tataki, bacon-wrapped shrimp or a dozen roasted oysters. One of their most popular new dishes is Pasta Frutti di Mare, which features shrimp, scallops and mussels with traditional fresh arrabbiata sauce served over linguine. While perusing the menu, take advantage of their Sunset Special: BOGO signature drinks every day from 4-7 p.m.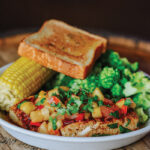 Pineapple Willy's Restaurant
9875 S Thomas Drive, PCB | (850) 235-0928
pwillys.com
Look no further for the best seafood dish in Panama City Beach. The Blackened Mahi-Mahi with Pineapple Salsa features a light and flaky filet of Mahi-Mahi topped with a blend of sauteed red onion, fresh pineapple, red peppers, red onion, cilantro and lime juice. Pair that with a frozen daiquiri on their historic pier dining and you'll swear you're in paradise.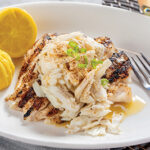 Capt. Anderson's Restaurant
5551 N Lagoon Drive, PCB | (850) 234-2225
captandersons.com
For most of history an open fire was the only way to cook and Capt. Anderson's masterfully prepares the freshest seafood over an open hearth. Scamp Imperial with fresh Lump Blue Crab Meat, a beautiful whole Silver Pompano, a filet of Snapper… just a few delicious, fresh seafood specialties cooked Greek style over an open hearth! Dine early and watch the fleet unload their catch!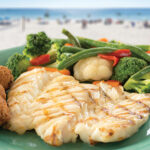 Schooners
5121 Gulf Drive, PCB | (850) 235-3555
schooners.com
Delicious Gulf fresh Grouper served with an incredible Gulf view! It's almost impossible to find REAL fresh Grouper these days, but this is it! Delivered to our door daily and served fried, grilled or blackened. Try it in a basket, as a sandwich or as a lunch or dinner entree!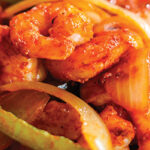 Boon Docks
14854 Bay View Circle, PCB | (850) 230-0005
boondocksfl.com
Boon Dock's grilled shrimp are seasoned to perfection with our proprietary blend of Cajun spices, bell peppers and onions, plus two side dishes and hush puppies. Thank you to all of our wonderful customers for 22 years. We look forward to many more!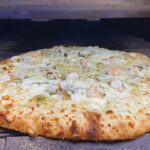 Paparazzi Gourmet Deli
2810 Thomas Drive, PCB | (850) 588-8244
Paparazzideli.com
Seafood and pizza might not be your traditional pairing, but with our Grand Lagoon Pie you'll get a feast of shrimp, clams, garlic, fresh basil, mozzarella, and olive oil that will make you rethink your whole approach. Or keep it simple with the Pink Shrimp Pie, featuring a vodka sauce (pink sauce) with tender shrimp. If you're in search of the best Italian food on the beach (with a seafood twist), look no further!