By Jack Smith
The sandwich that you enjoy is forever tied to a man who allegedly had a substantial gambling problem. The sandwich as we know it today (so the story goes) was invented by John Montagu, the 4th Earl of Sandwich. An avid gambler, the earl spent long hours at the gambling tables. During a particularly long stretch, he asked the cook to fix him something he could eat without getting up from his chair, and armed with sliced meat between bread, the sandwich was born.
The sandwich was late to take off in America as cooks were not excited to import anything from England after the war. The Po' Boy sandwich originated in New Orleans during the Great Depression, when two brothers, who owned a sandwich shop, promised to feed all out of work laborers. When the unfortunate man walked in the waiters yelled "Here comes another Po' Boy!" I promise that I do not make these stories up.
Once again, gambling is responsible for another famous sandwich, 'The Reuben.' No, this was not invented in a New York City deli, but named after a poker player in Omaha, Nebraska.
Join our featured restaurants and stop by to sample their own version of the sandwich.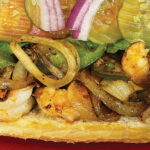 Boon Docks
14854 Bay View Circle, PCB | (850) 230-0005
boondocksfl.com
Our grilled Shrimp Po' Boy consist of delicious, local shrimp seasoned with our blend of Cajun seasonings, bell peppers and onions, served on French bread. Overflowing with flavors! Enjoy while you watch the barges go by, the occasional dolphin swim by, even an alligator or two, and our mascots, the ducks and geese, who come in for their favorite – hushpuppies.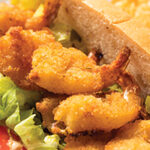 Sisters of the Sea
3901 Thomas Drive, PCB | (856) MER-MAID
sistersofthesea.net
Come on in to Sisters for our Big Easy Po' Boys: golden fried, piled high, on proper French bread with mayo, lettuce, tomato and pickles. You can choose shrimp, oyster, or alligator. Impressive indoor and outdoor dining overlooking the beautiful Grand Lagoon. We also have a swimming pool where patrons are welcome to swim.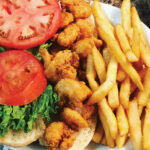 Mike's Cafe and Oyster Bar
17554 Front Beach Road, PCB | (850) 234-1942
mikescafeandoysterbar.com
Our family opened Thomas' Donuts on the west end of Panama City Beach in 1971 and we have been serving old friends and making new ones ever since. Mike's Diner was opened in 1986 with a commitment to providing friendly service and the best quality food. In 2011, we changed Mike's Diner into Mike's Cafe & Oyster Bar.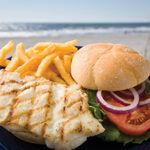 Schooners
5121 Gulf Drive, PCB | (850) 235-3555
schooners.com
Gulf Fresh Grouper! It is almost impossible to find REAL fresh Grouper these days, but this is it! Delivered fresh to our door daily. "This is the best sandwich in the world!" – quote from our friend, the late Jaime Shannon of Commander's Palace, winner of the 1999 America's Chef of the Year, James Beard Foundation. Real fresh Grouper. Served grilled, fried or blackened.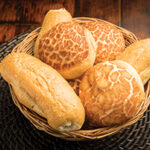 Capt. Anderson's Restaurant
5551 N Lagoon Drive, PCB | (850) 234-2225
captandersons.com
We may not have an actual sandwich on our menu, but every meal comes with fresh baked breads from the Capt. Anderson's bakery. Our beautiful Rice and Willie Rolls with fresh creamery butter are the perfect accompaniment to our Grilled Churrasco Steak or Stuffed Lobster!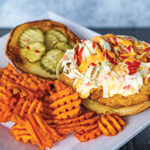 Christo's Sports Bar & Grill
2903 Thomas Drive, PCB | (850) 708-1878
christossportsbarandgrill.com
Come in to Christo's and try our famous Redneck Sammy. Made with hand breaded fried chicken on a brioche bun, topped with coleslaw and homemade pimento cheese, and a drizzle of sriracha aioli on top. Served with our house made pickles.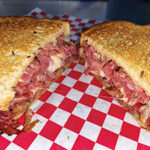 Paparazzi Gourmet Deli
2810 Thomas Drive, PCB | (850) 588-8244
Paparazzideli.com
Paparazzi Gourmet Deli's "PAPA-STRAMI" features a 1/2 lb. of freshly sliced New York pastrami with Swiss cheese and spicy deli mustard on toasted Jewish Rye Bread. "The best pastrami sandwich between here and New York!"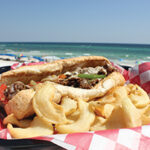 Barefoot Hide-A-Way
15405 Front Beach Road, PCB | (850) 249-2031
barefootrestaurants.com
For unique and mouthwatering sandwiches, head to Barefoot Hide-A-Way! Enjoy options like a Crab Cake Burger, Philly Cheesesteak, Po' Boy (choice of shrimp, gator or grouper) or Buffalo Chicken Sandwich as you take in the beachfront views. Pair your sandwich with a craft beer or one of Barefoot's signature drinks.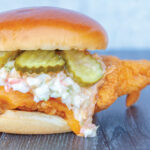 The Wicked Wheel
10025 Hutchison Boulevard, PCB | (850) 588-7947
thewickedwheel.com
Not only does The Wicked Wheel serve up the best fried chicken in Bay County, but they also serve up one of the best chicken sandwiches on the beach. The "Wicked Chicken Sandwich" offers up a double-breasted filet of freshly hand-battered fried chicken served on a toasted brioche bun and topped with cheddar cheese, homemade coleslaw, wicked sauce, and dill pickles. Come try one today!