By Jack Smith
I think 18th-century satirist Jonathan Swift said it best: "He was a bold man that first ate an oyster." Oysters are a somewhat divisive issue and as my wife likes to put it, "I would rather eat a tire." Growing up on the Chesapeake Bay, oysters were always a staple of most seafood dinners. Legend has it that oysters were so plentiful in the bay that early colonists often ran aground on oyster reefs. The fact that oysters were so abundant made them inexpensive – they cost about half the price of beef and were served at almost every meal. Locally, some restaurants are now offering chargrilled oysters, which my wife proclaims to be " sinfully delicious." Some love them, some hate them, and some refuse to even try them. No matter, oysters have been a part of our history from the beginning of time, and if you're in the "won't try" camp, it might be time to reconsider.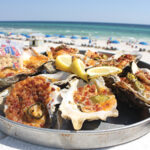 Barefoot On The Beach
11703 Front Beach Road, PCB | (850) 249-2442
www.barefootrestaurants.com
Barefoot on the Beach is a casual cafe atmosphere located street-level with stunning views of the Gulf of Mexico offering a laid-back dining experience. Enjoy our oysters on the half shell. Eat 'em raw, or get them baked with three cheeses, jalapenos and bacon.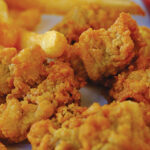 Boon Docks
14854 Bay View Circle, PCB | (850) 230-0005
boondocksfl.com
Like everything at Boon Docks, the oysters are delectable. Our fried oyster dinner is served with hushpuppies and your choice of two side dishes. It doesn't get any better!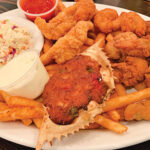 Angry Tuna
1701 S. Pier Park Drive, Suite 155, PCB | (850) 235-4632
One of Angry Tuna's specialties is their Seafood Platter, featuring golden fried shrimp, oysters, grouper and stuffed blue crab. This seafood is so fresh it was probably swimming only a few hours ago.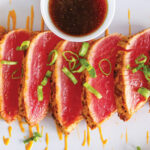 Christo's Sports Bar & Grill
2903 Thomas Drive, PCB | (850) 708-1878
christossportsbarandgrill.com
Christo's is one of the best kept secrets in Panama City Beach. Well, maybe not for the locals. One of the reasons is the Boom Boom Tuna – seared Ahi Tuna served with house ciroc. Please don't tell the tourists.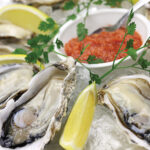 Mike's Cafe and Oyster Bar
17554 Front Beach Road, PCB | (850) 234-1942
mikescafeandoysterbar.com
Mike's is famous for our oysters. We serve them raw, steamed or baked with a veriety of delicious toppings. Our Mike's Baked Oysters come topped with shrimp, crab, spinach and smoked gouda. You may also want to try the Rockefeller, Bienville, Mexican, Parmesan Baked, PCB Baked or Cheddar & Bacon versions. Good news – you can get a sampler and try then four ways!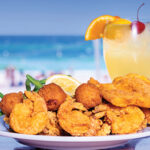 Schooners
5121 Gulf Drive, PCB | (850) 235-3555
schooners.com
Oysters are always the life of the party… Schooners' classic "beach party" is the #1 favorite. A trio of deep fried mahi, oysters, and jumbo shrimp.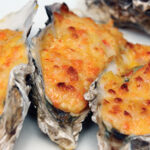 Capt. Anderson's Restaurant
5551 N Lagoon Drive, PCB | (850) 234-2225
captandersons.com
America's favorite seafood restaurant serves a delicious 1/2 dozen Parmesan Baked Oysters appetizer accented with their very own house seasoning. Hungry for more? Try the Select Fried Gulf Coast Oysters with a bottle of Lanson Brut Black Label Champagne.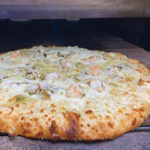 Paparazzi Gourmet Deli
2810 Thomas Drive, PCB | (850) 588-8244
Paparazzideli.com
The perfect beach combo – delicious, silky seafood on a pizza! Our decadent Grand Lagoon features shrimp and clams, with basil, garlic and olive oil. Our Pink Shrimp celebrates all things shrimp, cooked to perfection, covered in ooey gooey mozzarella and lying on a billowy bed of our famous pink sauce. Like all our pizzas, they are fresh, stone baked and made to order using recipes passed down through the generations.