By Jack Smith
When my father passed away he left me his box at the Kentucky Derby and for the past twenty years, we have dedicated the first weekend of May to his memory. Talk about a party! I have a photo of myself sitting on the roof of a Louisville police car wearing my date's pink Derby hat. Arrested? The cops said, "If we get a call you had better hold on." The Mint Julep is a combination of Kentucky bourbon, mint, sugar, and water. Although the race itself may only last a couple of minutes, Derby fans start at "The Oaks " on Friday and continue until late in the afternoon on Saturday. So girls, get your favorite hat, head to your favorite watering hole, and help celebrate one of the South's greatest traditions.
The Grand Marlin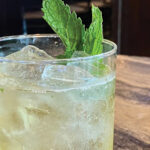 5323 N Lagoon Drive, PCB | (850) 249-1500
www.thegrandmarlin.com/pcb
Sip and savor a Southern favorite, the Mint Julep, while sitting back and enjoying the serenity of Grand Lagoon from The North Drop Bar. Whether you desire a classic cocktail, an ice-cold North Drop Ale, the best Mandarin Mango Mojito under the sun, or a glass of our carefully-selected wine, the North Drop Bar will satisfy in a unique, comfortable and fun atmosphere.
Schooners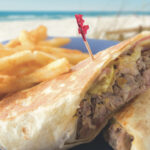 5121 Gulf Drive, PCB | (850) 235-3555
schooners.com
What's the most important part of the Kentucky Derby tradition? You need some bourbon! Schooners has the perfect Derby drink… the Kentucky Mule. A mix of ginger beer, lime juice, mint and bourbon! Rich, fatty, salty meats go great with bourbon, so try your Kentucky Mule with a Schooners Scuban, made with roasted pork and ham… and, enjoy it with a view!
Capt. Anderson's Restaurant

5551 N Lagoon Drive, PCB | (850) 234-2225
captandersons.com
One of the most popular dishes at Capt. Anderson's is the "Famous" Grilled Bay Shrimp seasoned with our own house seasoning and soaked in drawn butter… yum! A flavored rum cocktail made with lime such as a Mint Mojito is a perfect pairing. Dine early and watch the fleet unload!
Paparazzi Gourmet Deli

2810 Thomas Drive, PCB | (850) 588-8244
Paparazzideli.com
Paparazzi Gourmet Deli has some refreshing, equally satisfying alternatives to a Mint Julep, perfect for the first warm days of summer! Top picks include a chilled glass of Prosecco, or a delightfully fresh California Rosé.
Angry Tuna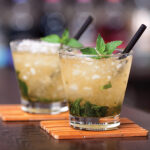 1701 S. Pier Park Drive, Suite 155, PCB | (850) 235-4632
angrytunaseafoodcompany.com
Stop by the Angry Tuna for the great taste of local flavors of the Gulf Coast! House specialties to go with your Derby drink of choice include the Seared Tuna Bowl, Tuna Sliders, Tuna Nachos, Colossal Seafood Platter, Peel & Eat Shrimp and many more! Try Beth's Tuna Club, fresh Ahi Tuna with lettuce, tomato and smoked applewood bacon, served with seasoned fries.
American Charlie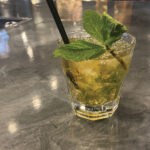 473 Richard Jackson Blvd., PCB | (850) 238-8340
americancharlie.com
American Charlie proudly presents the "All American Mint Julip." Made with Makers Mark, house made syrup and a sprig of mint, this American classic bursts with flavor. Come by and let our all pro bartenders make one just for you… or check out one of our other specialty cocktails!
Boon Docks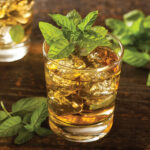 14854 Bay View Circle, PCB | (850) 230-0005
boondocksfl.com
Relax on the docks while you wait at Fish Tales. Take in the history of our 1941 West Bay landmark, the old fish house, the Buchanan home, and the old bait store, all now part of Boon Docks Restaurant. Look out over the water as you sip on something cold and refreshing and watch the barges go by, the occasional dolphin swim by, even an alligator or two, and our mascots, the ducks and geese, who come in for their favorite – hushpuppies.