By Jack Smith
One of Mexico's most popular exports is the margarita via its readily recognizable tequila base. In its classic form — tequila, lime juice and Cointreau or Triple Sec, served on the rocks in a glass with a salted rim — the margarita has fueled many a party. In part, its enduring appeal has to do with the fact that it's the perfect combination of sweet, sour and bitter, a mixture that is as synonymous with hot summer days as the beach.
As with most famous drinks, more than one person has laid claim to its invention. One of the most popular stories is that Carlos "Danny" Herrera developed the drink at his Tijuana-area restaurant for aspiring actress Marjorie King in 1938. It seems Ms. King was allergic to all alcohol except tequila. To make the drink more palatable, he added a wedge of lime and a lick of salt and created the first margarita. Another contender is Dallas socialite, Margarita Sames, who claimed she whipped it up for her well connected guest, Tommy Hilton, in 1948. Regardless of its true origin story, today you can always count on a refreshing margarita at Hilton Hotels (but also many, many other places). The frozen margarita's history is less cloudy. In 1971, Mariano Martinez, a Dallas-based restaurant owner, was looking for ways to revive his failing business, and got the idea from a 7-Eleven store. Nursing a wicked hangover, Martinez headed straight for the Slurpee machine to get a brain freeze. All this needs is the 'hair of the dog' to make this a perfect cocktail, he thought, and the rest is… well, you know (oh, thank heaven for 7- Eleven). And though some of our featured favorite restaurants might not have margaritas, check their menu for other knock-your-socks-off concoctions.
Barefoot On The Beach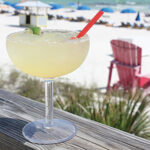 11073 Front Beach Road, PCB | (850) 249-2442
barefootrestaurants.com
Stop on by Barefoot On The Beach for one of the best margaritas in Panama City Beach! In addition to lime and strawberry, all Barefoot Restaurants offer a White Lightning Margarita, which is made with 100 proof moonshine. Grab your choice of margarita, lounge at Barefoot's onsite pool and enjoy the view of the Gulf of Mexico.
Pineapple Willy's Restaurant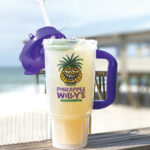 9875 S Thomas Drive, PCB | (850) 235-0928
pwillys.com
Since 1984, Pineapple Willy's has been serving up some of the best and coldest drinks on Panama City Beach. Their classic Lime Margarita is available as a frozen drink or on the rocks in an insulated souvenir cup, perfect for the beach! Be sure to bring your cup back for a discounted refill on any of their other daiquiris!
Boon Docks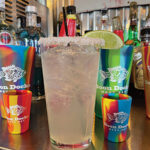 14854 Bay View Circle, PCB | (850) 230-0005
boondocksfl.com
Nothing better than a Boon Docks Margarita! We squeeze fresh juices daily, concoct our own sour mix and add Patron. Enjoy! Relax, sip, look out over the water and watch the barges go by, the occasional dolphin swim by, even an alligator or two, and our mascots, the ducks and geese, who come in for their favorite – hushpuppies.
Sisters of the Sea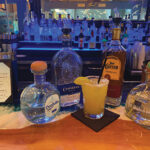 3901 Thomas Drive, PCB | (856) MER-MAID
sistersofthesea.net
Sisters' margarita is a delight, but a bit of a mystery. Finagling a recipe out of bartender Scott for this fine beverage was like pulling teeth. Suffice to say, the fruit is fresh and there may or may not be a splash of Sprite.
Mike's Cafe and Oyster Bar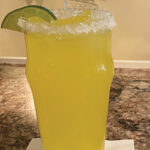 17554 Front Beach Road, PCB | (850) 234-1942
mikescafeandoysterbar.com
Our family opened Thomas' Donuts on the west end of Panama City Beach in 1971 and we have been serving old friends and making new ones ever since. Mike's Diner was opened in 1986 with a commitment to providing friendly service and the best quality food. In 2011, we changed Mike's Diner into Mike's Cafe & Oyster Bar.
Schooners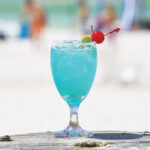 5121 Gulf Drive, PCB | (850) 235-3555
schooners.com
The Grand "Blue" Lagoon is a salient top shelf margarita that is ALMOST as alluring as it is delectable. Made with Don Julio, Grand Marnier, Blue Curaçao, and Agave Nectar. You can't be shy while enjoying it because everyone will want to know what you're drinking.
Capt. Anderson's Restaurant

5551 N Lagoon Drive, PCB | (850) 234-2225
captandersons.com
Enjoy $6 Margarita Specials every Tuesday night in the Capt. Anderson's Lounge! Blood Orange Margarita, Midori Margarita, Skinny Margarita, Italian Margarita… the list goes on! The best Margarita special on the beach!
Christo's Sports Bar & Grill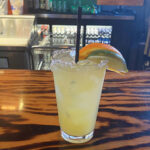 2903 Thomas Drive, PCB | (850) 708-1878
christossportsbarandgrill.com
Christo's margarita features fresh squeezed citrus juices, your choice of tequila, and a splash of Solerno orange liqueur. Then it's shaken to get all the flavors for a nice blend and topped with Grand Marnier. We are featuring $5 Top Shelf Margaritas every Thursday for the month of April!
Paparazzi Gourmet Deli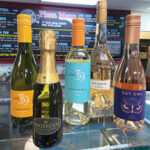 2810 Thomas Drive, PCB | (850) 588-8244
Paparazzideli.com
Paparazzi Gourmet Deli has some refreshing, equally satisfying alternatives to a Margarita perfect for the first warm days of spring! Top picks include a chilled glass of Prosecco, or a delightfully fresh California Rosé.