By Jack Smith
The daiquiri's origin goes back to an actual cocktail recipe card signed by a "Jennings Cox" in 1896. This original recipe underwent an important transformation in the 1920s and 1930s when, with shaved ice and an electric blender, Constantino "Constante" Ribalaigua Vert, bartender and owner of a little bar called Floridita in Havana, Cuba, perfected the drink. The frozen daiquiri was born. Ernest Hemingway happened into the bar soon after and sampled the frozen creation, then requested it without sugar and with double the rum due to his diabetes. The cocktail became conducive to epic drinking sessions and Hemingway became a regular. In one account, Hemingway put away 15 frozen daiquiris in one sitting. The "Hemingway Special" has a permanent spot on the menu.
Frozen Mason Jar Daiquiris: While researching this month's "Best Frozen Drink" section, I came across an article from The Yummy Life that showed a recipe, an easy one, for flavored frozen daiquiris. Each daiquiri contains frozen fruit (I guess you can say that's the healthy part), and they taste great. The best part is that you can mix several ahead of time and pour them into 16 oz. mason jars (now available at Michael's in Pier Park) and freeze them until needed. Here's a helpful hint: leave some room at the top of the jar as they expand while they freeze! The alcohol keeps them from freezing completely, so just remove them from the freezer about 10 minutes before serving.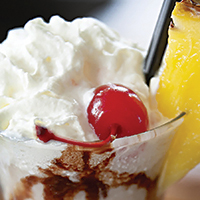 The Grand Marlin
5323 N Lagoon Drive, PCB | (850) 249-1500
www.thegrandmarlin.com/pcb
Who says you can't have dessert first? The Grand Marlin's signature Bushwacker is a creamy, frozen concoction featuring white rum, coffee liqueur, crème de cocoa, vanilla ice cream, chocolate syrup and a 151-rum float. It's a taste of heaven in a tall glass.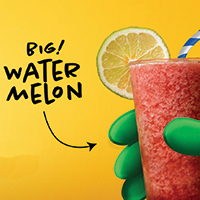 Señor Frogs
15005 Front Beach Road, PCB
senorfrogs.com/panama-city-beach
Señor Frogs is a synomym for fun. It is considered the best restaurant and bar because the staff make it their duty to make sure you're having a great time every minute. Enjoy the music, the colors, the amazing atmosphere it offers and order your favorite dish, because the menu is huge. Try our assortment of frozen drinks, they are delicious and a guaranteed brain freeze.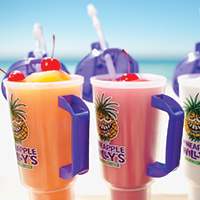 Pineapple Willy's Restaurant
9875 S Thomas Drive, PCB | (850) 235-0928
pwillys.com
Pineapple Willy's has been serving up the best frozen daiquiris in Panama City Beach since the 80s. Made with their proprietary "Chilly Willy's Daiquiri Co." mix, these daiquiris are packed with flavor and available in three different sizes. Drink one on their historic pier while you dine, or grab one to-go!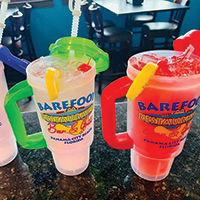 Barefoot On The Beach
11073 Front Beach Road, PCB | (850) 249-2442
barefootrestaurants.com
We are a fun, outdoor beach bar and restaurant serving breakfast, lunch and dinner. We've got food for the whole family with our selection of shrimp, wings, burgers and more. Swim in our pool, grab a signature drink and watch the waves come in. Enjoy our large selection of frozen concoctions that help you hang on.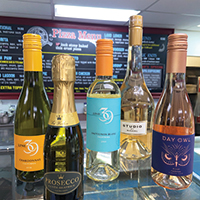 Paparazzi Gourmet Deli
2810 Thomas Drive, PCB | (850) 588-8244
Paparazzideli.com
Paparazzi Gourmet Deli has some refreshing, equally satisfying alternatives to a frozen drink, perfect for the first warm days of summer! Top picks include a chilled glass of Prosecco, or a delightfully fresh California Rosé.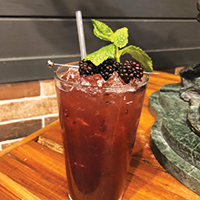 American Charlie
473 Richard Jackson Blvd., PCB | (850) 238-8340
americancharlie.com
Bacardi silver, house made simple syrup and a muddle of fresh blackberry, lime and mint, make this refreshing American Charlie favorite burst with flavor. Come by and see Nick, Candace, Dallas, Patrick and Kristin…they'd love to make one of these for you…or check out one of our other specialty signature cocktails!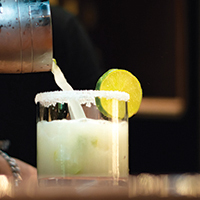 Boon Docks
14854 Bay View Circle, PCB | (850) 230-0005
boondocksfl.com
Boon Docks now features a fully stocked bar with specialty drinks, wine and cocktails. Located under the mighty oaks on the Intracoastal Waterway just 5 minutes from the beaches in West Bay, Boon Docks offers you a delicious array of local and regional seafood using a blend of spices that gives it a taste like no other! Thank you to all of our wonderful customers for 22 years. We look forward to many more!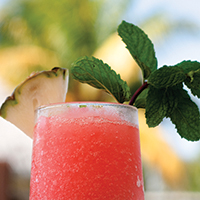 Angry Tuna
1701 S. Pier Park Drive, Suite 155, PCB | (850) 235-4632
angrytunaseafoodcompany.com
Whether you're local or just visiting, stop by the Angry Tuna for the great taste of local flavors of the Gulf Coast! House specialties include the Seared Tuna Bowl, Tuna Sliders, Tuna Nachos, Colossal Seafood Platter, Peel & Eat Shrimp and many more! We've got a full bar with a variety of beers, Angry Tuna Red Lager and delicious frozen drinks!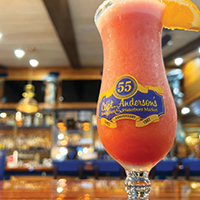 Capt. Anderson's Restaurant
5551 N Lagoon Drive, PCB | (850) 234-2225
captandersons.com
Capt. Anderson's has an extensive and award winning wine cellar, but if you're looking to "cool down", try a frozen Strawberry Daiquiri, Pina Colada or Margarita with your Oven Broiled Stuffed Filet of Grouper! For something tropical and luscious, try a frozen Kahlua Colada… in a FREE souvenir glass you can take home with you!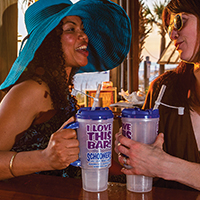 Schooners
5121 Gulf Drive, PCB | (850) 235-3555
schooners.com
The Last Local Beach Club is perched right on the beach and it can get HOT! Quench your thirst with a frozen Pina Colada, Margarita, Bushwacker, Rum Runner or Daiquiri. For something more exotic try a frozen Key Lime Pie or Banana Baileys Colada… take the souvenir mug to go! Great food and refreshing cold drinks… Schooners serves it all with an amazing view of the Gulf!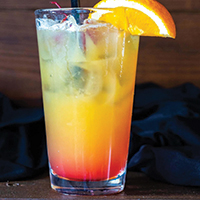 Christo's Sports Bar & Grill
2903 Thomas Drive, PCB | (850) 708-1878
christossportsbarandgrill.com
Come in and try the Sweet Seduction: Malibu, banana liquer, pineapple juice and a splash of grenadine. It's sure to get you in the mood for springtime in April.