By Jack Smith
Hamburgers may well be considered America's favorite food. The origins of the hamburger are fuzzy at best.
The Germans claim the Tatars introduced the burger in Hamburg, hence the name "hamburger." In the 19th century, beef from German Hamburg cows was minced and combined with garlic, onions, salt and pepper, then formed into patties (without bread or a bun) to make Hamburg steaks. Given the quality of Hamburg beef, these early burgers were considered gourmet and were pricey. When German immigrants arrived in New York and Chicago, many opened restaurants and featured the Hamburg steak, an Americanized version of the German offering.
Fletcher Davis claims to have invented the hamburger, putting ground beef between two pieces of Texas Toast when one of his customers was in too much of a hurry to sit down for a meal. The customer walked away with his hamburger steak and seemed so content that "Old Dave" offered his new carryout meal as a staple menu item at the end of 1880 in Athens, Texas.
The Library of Congress credits Danish immigrant Louis Lassen of Louis' Lunch, a small lunch wagon in New Haven, Connecticut, with selling the first hamburger and steak sandwich in the U.S. in 1895.
Whatever the truth, the staff of PCB Life sure has enjoyed going in search of PCB's "Best Burger," with lettuce and tomato. Here are our winners.
The Wicked Wheel
10025 Hutchison Boulevard, PCB | (850) 588-7947
thewickedwheel.com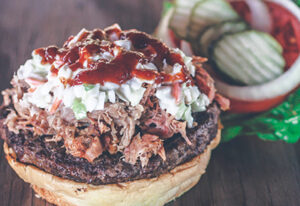 The Wicked Wheel offers up their original "Bofus" burger made with their Classic Burnout Burger and topped with delicious smoked pulled pork, coleslaw, BBQ sauce and onion tanglers. All burgers at The Wicked Wheel are made of ½ pound all-natural Braveheart Black Angus beef – born and raised in the USA. Come in and customize yours!
Barefoot Hide A Way Bar & Grill
15405 Front Beach Rd, PCB | (850) 249-2031
www.barefootrestaurants.com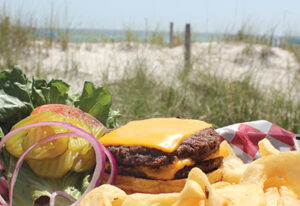 Our Barefoot BIGMOUTH features double all-beef patties, your choice of cheese, lettuce, tomato, onion and pickle, and is served with our signature sidewinder fries. Pair the burger with one of our cold beers on tap or a frozen Key Lime Piña Colada. The BIGMOUTH is available at all three Barefoot locations. Come grab a burger and take in the waterfront views!
Mike's Cafe and Oyster Bar
17554 Front Beach Rd,, PCB | (850) 234-1942
mikescafeandoysterbar.com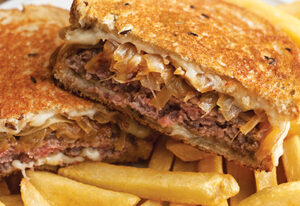 Try our patty melt: a grilled beef patty with onions & swiss cheese on rye bread. Served with a side of fries, chips or slaw and a dill spear. You'll find out why our customers keep coming back! Our family has been serving old friends and making new ones since 1971. Open everyday 11 a.m. – 9 p.m., with lunch starting at 11 a.m. Happy Hour 2 – 6 p.m. everyday.
Beef O'Brady's
11226 Hutchison Blvd., PCB | (850) 739-4647
www.beefobradys.com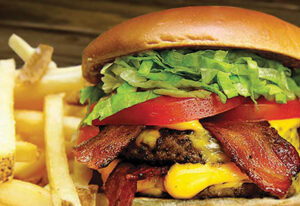 Kick your week off right, with Burger Monday! Fixed the way you like it. All of our burgers are the Certified Angus Beef brand with unrivaled flavor, juiciness and tenderness. Add provolone, swiss, american, smoked gouda or pepper jack cheese, bleu cheese crumbles, grilled mushrooms. grilled onions, queso or jalapeños.

Andy's Flour Power
2629 Thomas Dr., PCB | (850) 230-0014
andysflourpower.com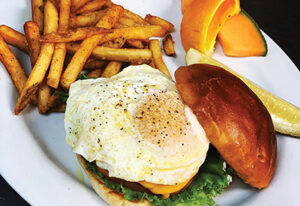 Try our Egg-Cellent Breakfast Burger! Our hand packed burger is seasoned and cooked to perfection and topped with house made Pimento Cheese! But! We couldn't stop there! We needed to make it "Egg-stra" special! We've topped it with an any style egg! Served with lettuce, tomato and your choice of side! You certainly won't leave hungry!