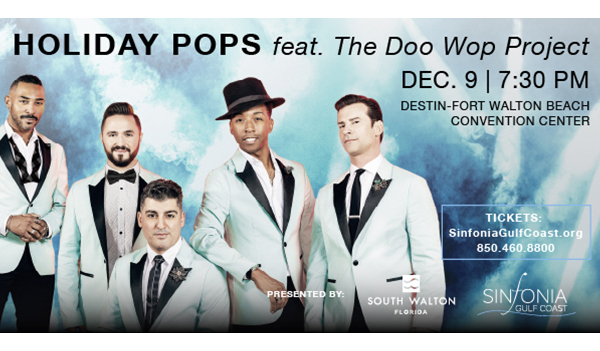 By Jack Smith
Hamburgers may well be considered America's favorite food, but the origins of the hamburger are fuzzy at best.
The Germans claim it started in Hamburg (hence the name, hamburger), influenced in turn by the 12th century Mongolians' steak tartare. In the 19th century, beef from German Hamburg cows was minced and combined with garlic, onions, salt and pepper, then formed into patties (without bread or a bun) to make Hamburg steaks. Given the quality of Hamburg beef, these early burgers were considered gourmet and were pricey. When German immigrants arrived in New York and Chicago, many opened restaurants and featured the Hamburg steak, an Americanized version of the German offering.
Fletcher Davis claims to have invented the hamburger, putting ground beef between two pieces of Texas Toast when one of his customers was in too much of a hurry to sit down for a meal. The customer walked away with his hamburger steak and seemed so content that "Old Dave" offered his new carryout meal as a staple menu item at the end of 1880 in Athens, Texas.
The Library of Congress credits Danish immigrant Louis Lassen of Louis' Lunch, a small lunch wagon in New Haven, Connecticut, with selling the first hamburger and steak sandwich in the U.S. in 1895.
Whatever the truth, the staff of PCB Life sure has enjoyed going in search of PCB's "Best Burger," with lettuce and tomato. See below for our winners.
Capt. Anderson's Restaurant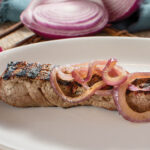 5551 N Lagoon Drive, PCB | (850) 234-2225
captandersons.com
While the young ones are enjoying a burger on the kids menu, the adults can sink their teeth into our signature steak… the Grilled Churrasco! A perfectly seasoned Nicaraguan Cut Tenderloin with grilled Bermuda Onions. Deliciously paired with a bottle of Penfolds Bin 389 Cabernet Shiraz.
The Grand Marlin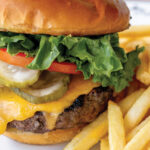 5323 N Lagoon Drive, PCB | (850) 249-1500
www.thegrandmarlin.com/pcb
The Grand Marlin takes the classic cheeseburger and just makes it a bit more fancy. Their "TGM Cheddar Burger" is topped with Tillamook cheddar cheese, tomato, lettuce and house made pickles, to top it off, it comes on a brioche bun to create the perfect burger. You can enjoy your cheeseburger for brunch or dinner.
Island Fin Poké Company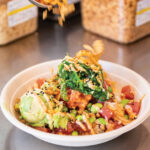 15500 PCB Pkwy., Suite 320, PCB | (850) 919-5656
islandfinpoke.com/panama-city-beach
"When I went to verify the brand for myself, I was shocked to find that its service is truly a part of the brand's culture," said the new PCB Island Fin Poke Compay's owner Kurt Fadden. "I'm so excited to bring something like this to Bay County. It's nice for people to have a place to go where they can count on a friendly atmosphere, affordable food and a nice environment."
American Charlie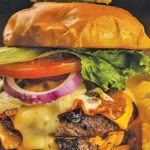 473 Richard Jackson Blvd., PCB | (850) 238-8340
americancharlie.com
American Charlie serves the biggest, juiciest burgers in town. Each patty is formed by hand and seasoned and grilled to perfection for maximum flavor. We use only the freshest lettuce, tomatoes, pickles, premium quality cheeses and homemade sauces. The entire burger is served on a warm, toasted sesame seed bun and with a heaping side of our famous fries. Each bite is more delicious than the last, so stop in and try it today!
Señor Frogs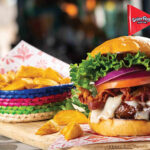 15005 Front Beach Road, PCB
senorfrogs.com/panama-city-beach
We're a restaurant where the perfect mix of fun and flavor converge, just like the sand and the aquamarine sea. Have a great time with your family and friends while enjoying delicious dishes and the iconic Señor Frog's yards. Try our delicious beach burger: 7 oz. Black Angus beef patty served on a brioche bun with choice of side. Add cheese or bacon and make it your own personalized burger heaven.
Schooners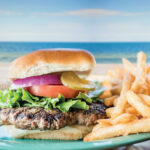 5121 Gulf Drive, PCB | (850) 235-3555
schooners.com
The Schooners Burger is 10 oz. of choice Angus Beef grilled to perfection. Topped with all your favorite fixin's and served with a view… a legendary burger on the Gulf coast!
Paparazzi Gourmet Deli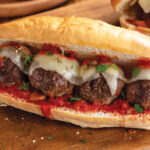 2810 Thomas Drive, PCB | (850) 588-8244
Paparazzideli.com
If you think burgers are the consummate comfort food, then you've never had a Meatball Parmigiana hot sub the Paparazzi way. Packed with hand-rolled meatballs, marinara sauce, and topped with mozzarella cheese, it gives their equally mouth-watering Papa-Strami sub (New York-style pastrami, melted Swiss, and mustard on rye) a run for your lunch money.
Boon Docks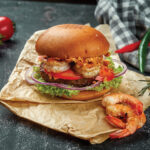 14854 Bay View Circle, PCB | (850) 230-0005
boondocksfl.com
Located under the mighty oaks on the Intracoastal Waterway just 5 minutes from the beaches in West Bay, Boon Docks offers you a delicious array of local and regional seafood prepared in a variety of ways. We use a special blend of spices that gives our grilled items a taste like no other! Looking for something different? Try our fried or grilled shrimp burger.
The Wicked Wheel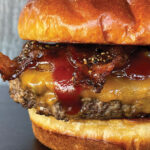 10025 Hutchison Boulevard, PCB | (850) 588-7947
thewickedwheel.com
Take a bite out of the best burger on the beach at The Wicked Wheel – the Candied Bacon BBQ Burger! This classic Burnout Burger is grilled and smothered in cheddar cheese, caramelized sweet onion, barbecue sauce, & homemade candied bacon. Wash it all down with an ice-cold Gasoline Tea from the bar!
Christo's Sports Bar & Grill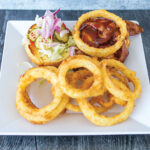 2903 Thomas Drive, PCB | (850) 708-1878
christossportsbarandgrill.com
The best burger around is the Smokehouse Cheddar Burger. We start with a fresh hamburger patty tossed on the grill and sprinkled our house seasoning, add slice cheddar, drizzle our homemade Whiskey BBQ sauce and top with a hand battered onion ring, served on a bun with all the fixings.