By Jack Smith
The origin of the Bloody Mary revolves around two of the world's greatest bars. The tale begins in the roaring twenties at the famous New York Bar in Paris (later known as Harry's New York Bar), one of Ernest Hemingway's favorite haunts. There, bartender Fernand 'Pete' Petiot is said to have conceived the first rudimentary version. After prohibition Petiot moved to the U.S. where he refined his invention at one of my favorite bars, the King Cole Bar, located in the St. Regis Hotel in New York. There, in 1934 it is said Pete enhanced his creation by adding a few dashes of salt, pepper and cayenne, along with Worcestershire Sauce and lemon juice, to the vodka and tomato juice, which he served shaken over crushed ice.
The story of how the cocktail got its name is as unclear as the libation itself, but my favorite version of history is that Pete named it so, after a patron remarked that it reminded him of his girlfriend Mary who was a dancer in a cabaret called a Bucket of Blood. No matter the history, today the Bloody Mary is one of America's most beloved cocktails… perhaps that is because we can drink it, guilt free, before noon! Cheers to the Bloody Mary!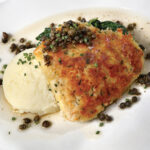 The Grand Marlin
5323 N Lagoon Drive, PCB | (850) 249-1500
www.thegrandmarlin.com/pcb
Fresh Gulf seafood daily! With sunsets overlooking Grand Lagoon, The Grand Marlin of Panama City Beach offers a tranquil, relaxed atmosphere, paired with the area's best selection of fresh seafood highlighted by delectable, daily specials from the kitchen of award-winning Chef Gregg McCarthy.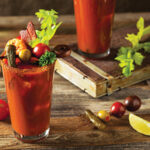 Boon Docks
14854 Bay View Circle, PCB | (850) 230-0005
boondocksfl.com
Located under the mighty oaks on the Intracoastal Waterway just 5 minutes from the beaches in West Bay, Boon Docks offers you a delicious array of local and regional seafood prepared in a variety of ways. We use a special blend of spices that gives our grilled items a taste like no other! Our unique breading recipe gives our fried seafood a special and original flavor. And we're always serving ice cold beer and the best Bloody Marys on the beach!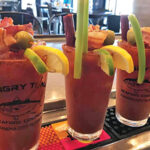 Angry Tuna
1701 S. Pier Park Drive, Suite 155, PCB | (850) 235-4632
angrytunaseafoodcompany.com
Make plans to join us every Sunday. We offer high definition TVs, entertainment and Bloody Marys for $5. All. Day. Long.
Christo's Sports Bar & Grill
2903 Thomas Drive, PCB | (850) 708-1878
christossportsbarandgrill.com
Christo's Bloody Mary has its own twist. Ingredients are Dixie Pepper vodka, Charleston Spicy Bloody Mary mix, then we rim the glass with our special seasoning salt topped with olives, okra & a pepperoni meat straw. It's a tasty way to enjoy!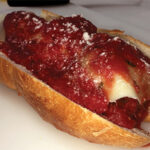 Paparazzi Gourmet Deli
2810 Thomas Drive, PCB | (850) 588-8244
Paparazzideli.com
Paparazzi doesn't have Bloody Marys on the menu but there are plenty of head-spinning tomato adjacent alternatives worth trying, like the hot meatball parmigiana sub, melt in your mouth manicotti, and their famously delicious pizzas.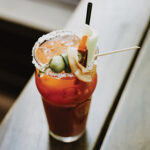 Schooners
5121 Gulf Drive, PCB | (850) 235-3555
schooners.com
You can never go wrong with the White Cheddar Cheese Curds Appetizer and a Bloody Mary! Cheese always makes an excellent accompaniment to tomato and its gooey nature contrasts nicely with the horseradish in the Bloody Mary. Enjoy it with a view at Schooners!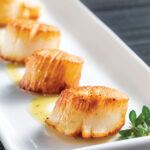 Capt. Anderson's Restaurant
5551 N Lagoon Drive, PCB | (850) 234-2225
captandersons.com
Is there anything more decadent than buttery Scallops? Their rich flavor makes an exceptional accompaniment to a Bloody Mary. They can also bring down the heat a little bit, especially if you have a heavy pour on the Tabasco! Try Capt. Anderson's super colossal Seared Sea Scallops with a traditional Bloody Mary!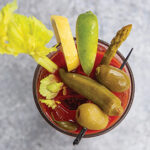 The Wicked Wheel
10025 Hutchison Boulevard, PCB | (850) 588-7947
thewickedwheel.com
The Wicked Wheel serves up a wicked great Bloody Mary with their "Wicked Mary." This Bloody Mary comes with 3 ounces of copper distilled Tito's Vodka mixed with Whiskey Willy's Bloody Mary mix in a 20-ounce souvenir glass for you to take home. Garnished with greens & served ice cold.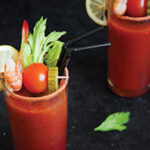 The Shrimp Boat
1201 Beck Avenue, Panama City | (850) 785-8706
shrimpboatpc.com
The Shrimp Boat Restaurant offers a unique waterfront dining experience, with a reputation for being one of the best seafood restaurants in town. Located in Historic St. Andrews, we offer a great Bloody Mary, as well as amazing steaks, pasta, drinks and top-notch service. We are right along side Smith's dock with a wonderful view of the fishing and pleasure boats. Dine on our outside deck that runs the length of the dock, or relax by an open fire pit.