By Jack Smith
The term 'appetizers' seems to have appeared simultaneously in England and America in 1860 as an English alternative to the French word, hors d'oeuvres. But though the name might vary, appetizers, in some form or another, have graced many a cultured table over the centuries. Ancient Greeks and Romans were known for their wine, olive, and cheese platters, while Renaissance physicians toted pre-dinner meat morsels to promote digestion. As part of a multi-course spread, appetizers were primarily found in the more privileged corners of society. It's hard to imagine Genghis Khan sitting down to enjoy finger foods, while Daniel Boone would've been hard pressed to pronounce hors d'oeuvre, much less divine its meaning. Today appetizers, aka 'starters,' have evolved into their own food group. Portion conscious consumers are known to treat appetizers as a main course (who among us has not made a feast of wings, nachos, or even fried pickles?). My wife is convinced that soup and salad constitutes a full course meal. My advice? Enjoy all the oyster sliders and spinach dip you desire, and be merry. Main course optional. Bon appétit!
Señor Frogs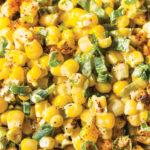 15005 Front Beach Road, PCB
senorfrogs.com/panama-city-beach
Come for the food, stay for the fun. Try our Mexican Street Corn Off the Cob with mayonnaise, queso fresco, spicy Tajin® and lime.
The Grand Marlin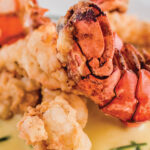 5323 N Lagoon Drive, PCB | (850) 249-1500
www.thegrandmarlin.com/pcb
The Grand Marlin features seafood so fresh we print our menus daily to take advantage of the local catch. We are passionate about offering an ever-changing menu, made from scratch daily, using only the freshest seafood and highest quality ingredients. Don't miss our fan-favorite appetizer, Crispy Lobster Fingers – made with vanilla bean honey mustard sauce. It's sinfully good!
American Charlie

473 Richard Jackson Blvd., PCB | (850) 238-8340
americancharlie.com
American Charlie Grill & Tavern is a new All-American eatery located at The Shoppes at Edgewater from the local team that brought you Firefly PCB. Come in and try our Buffalo Chicken Wings – brined, smoked, and fried crisp. Choice of buffalo, bbq, sweet chili, carolina reaper or firecracker dust.
Schooners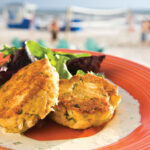 5121 Gulf Drive, PCB | (850) 235-3555
schooners.com
Everything tastes better with a view of the beach, and Schooners is famous for having one of the best views in the USA… add two Jumbo Lump Crab Cakes served with Tropical Fruit Salsa and Creole Remoulade, a chilled glass of wine or ice cold local craft beer, and you have the perfect makings of a lifelong beach memory!
Boon Docks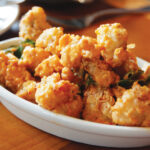 14854 Bay View Circle, PCB | (850) 230-0005
boondocksfl.com
Relax on the docks while you wait at Fish Tales. Take in the history of our 1941 West Bay landmark, the old fish house, the Buchanan home, and the old bait store, all now part of Boon Docks Restaurant. Look out over the water as you sip on something cold and refreshing and watch the barges go by, the occasional dolphin swim by, even an alligator or two, and our mascots, the ducks and geese, who come in for their favorite – hushpuppies.
Capt. Anderson's Restaurant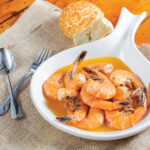 5551 N Lagoon Drive, PCB | (850) 234-2225
captandersons.com
Capt. Anderson's has published a lot of cookbooks over the past 54 years, but there is always one recipe missing. As a matter of fact, you won't find this recipe anywhere. It is Capt. Anderson's most closely guarded secret…you have to taste to believe! The #1 appetizer of all time! Capt. A's FAMOUS Grilled Bay Shrimp!
Christo's Sports Bar & Grill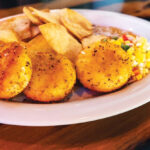 2903 Thomas Drive, PCB | (850) 708-1878
christossportsbarandgrill.com
Try our delectable Fried Goat Cheese: panko crusted with herbs of thyme, oregano, and basil deep fried and served with a mango chutney, house made corn salsa and deep fried pita chips.
Paparazzi Gourmet Deli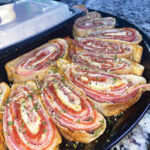 2810 Thomas Drive, PCB | (850) 588-8244
Paparazzideli.com
Paparazzi's stromboli tray is the kind of party-starter that gets the hostess noticed. Savvy planners also know about Paparazzi's other party trays (24-hour advance notice required) whether it's a specialty meat platter, a chicken salad tray, or a delectable cheese assortment on the agenda.
The Wicked Wheel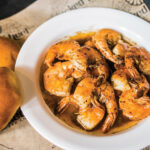 10025 Hutchison Boulevard, PCB | (850) 588-7947
thewickedwheel.com
Come to The Wicked Wheel and get transported straight to New Orleans with our famous Backfire Shrimp. Seasoned to perfection with our famous cajun flavor, this half-pound of fresh Gulf shrimp is sautéed in a spicy herb seasoning and butter and served with fresh rolls for dipping.
Angry Tuna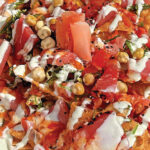 1701 S. Pier Park Drive, Suite 155, PCB | (850) 235-4632
angrytunaseafoodcompany.com
Stop by the Angry Tuna for the great taste of local flavors of the Gulf Coast! House specialties to go with your drink of choice include the Seared Tuna Bowl, Tuna Sliders, Tuna Nachos, Colossal Seafood Platter, Peel & Eat Shrimp and many more! Try Beth's Tuna Club, fresh Ahi Tuna with lettuce, tomato and smoked applewood bacon, served with seasoned fries.