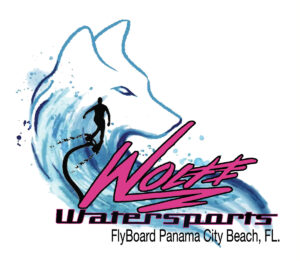 Hey there! Bruce Evou here with Wolfe Watersports LLC. I'm excited to tell you about a great new experience here in Panama City. It's called Hydro Flying and it is the latest innovation in water sports technology. I run the business with my family, and we are very excited to be able to bring this new adventure to Bay County. We also do kayaking, paddle-boarding, surfboard lessons, and so much more! I love to make people happy by giving them great experiences to share with friends and family.
We opened in the Panhandle in August 2021. We are really excited to to offer Bay County a premier hydro flying experience. Join us on the water and strap in for a high flying adventure sure to leave you with memories for years to come. We use the latest innovation of the Flyboard Pro Series system by Zapata Racing. We specialize in high-end innovative recreational products. We offer several services and products dealing with only the top of the line equipment. Our goal is to innovate the recreational industry by providing the latest and greatest products and services to our customers.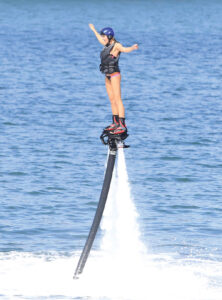 Hydro flying uses a device called the Fly Board that allows you to simply hover over the water. Seems impossible right? However, we use the power of the wave runner to force water through a reinforced hose which then comes out of the bottom of the Fly Board. This creates vertical thrust you need to elevate out of the water. You'll be flying 5 to 10 feet above the water within 10-15 minutes! When you complete thirty or forty minutes of hydro flying, you receive a certificate to document your amazing achievement.
Our mission statement is "Inspiring Confidence through Adventurous Experiences". We believe that hands on activities are the best way to learn. There are so many lessons that can be applied from science, like how and why it works, to healthy physical exercise.
If hydro flying isn't the adventure you're looking for, no worries. We also offer kayaks, pedal boats, and paddleboard rentals as well as surfing lessons with a local professional that will show you the ins and outs of surfing at the hottest local surf spots. It is important to us that everyone goes away from these experiences with a new perspective and a fierce sense of confidence.
You're sure to have the best story to share with your friends and family when you join us on the water at Wolfe Watersports Hydro Fly PCB. Nurture your inner child by joining an elite class of thrill-seekers by experiencing hydro flying in Panama City.
Visit wolfewatersportspcb.com to book your experience today.