PCB Chamber New Member Spotlight
We are Michael and LaDeana Neal. I grew up in the military as a dependent and later as an active duty member, all over the place. My wife grew up on a farm in Missouri, and throughout the state. I spent many years in medical and maintenance fields, then eventually grew that into the construction side and have not looked back. LaDeana is a down-to-earth country girl and former business owner, with two incredible adult children. We both had planned to buy a farm in Missouri and live out our days.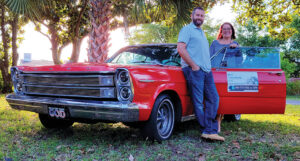 The company I was working for at the time presented us with an incredible opportunity, but we only had three weeks to find a house, pack, move, and get started. After about a week of panic, we made the decision to pack up our house, three dogs, and our vehicles, find a new place to call home, and leave the rest to God. We had truly little time to do any thinking about our future, so on our move down here LaDeana called me on the phone (she was following my very full vehicle with her equally full vehicle, except she had her best friend and I had three anxious dogs) and asked me if she was going to like Panama City Beach because she had never been there before. Her last trip to Florida was over 30 years ago to Orlando. I laughed and told her that as soon as she sees the beach, she'd be home.
We moved down here for an opportunity to help rebuild part of the community from the aftermath of Hurricane Michael. Unfortunately, that opportunity was only going to last for four years and then send us somewhere very, very cold. Not our idea of fun after living in one of the warmest, most beautiful areas in the country. So, one night, my wife and I were sitting on our patio, listening to the waves out in the Gulf, and decided that we did not want to leave.
Bay County and Panama City Beach had opened its arms to us. That sense of community, coupled with the amazing scenery, incredible food, and awesome people, made us fall in love. We established our company, joined the Beach Chamber of Commerce, and have been incredibly blessed. Neal Consultants LLC is a family-owned and operated, veteran and woman owned and operated, Christian property inspection company for both commercial and residential. If you are a first-time home buyer in need of an inspection, looking for lower insurance rates, a construction company requiring phase construction inspections, or a business in the process of expanding, we can handle all your needs.
We pray that one day we will have our home office in Panama City Beach and reach out to the rest of the amazing communities in the panhandle of Florida and be able to give back to such an incredible state, county, city, and community. If you see us, please feel free to stop and chat or just say "Hi!"