By Kim Brazell, Marketing Director, Flooring Depot of Panama City
You are thinking about updating the flooring in your home. It's a major investment so you turn to handy, dandy Google to help you decide what floors work best for you. But by the time you are halfway through your research, you are confused by the acronyms you have found in the articles. There is LVP, LVT, laminate, engineered wood, WPC, SPC and traditional hardwood.
What does it all mean? How do you decide what works best for the way you and your family live? Well, we decided to help you with the terminology surrounding a flooring purchase. So, I sat down with Kristen Carter-Rowell, the sales manager for Flooring Depot of Panama City to help decode this flooring alphabet.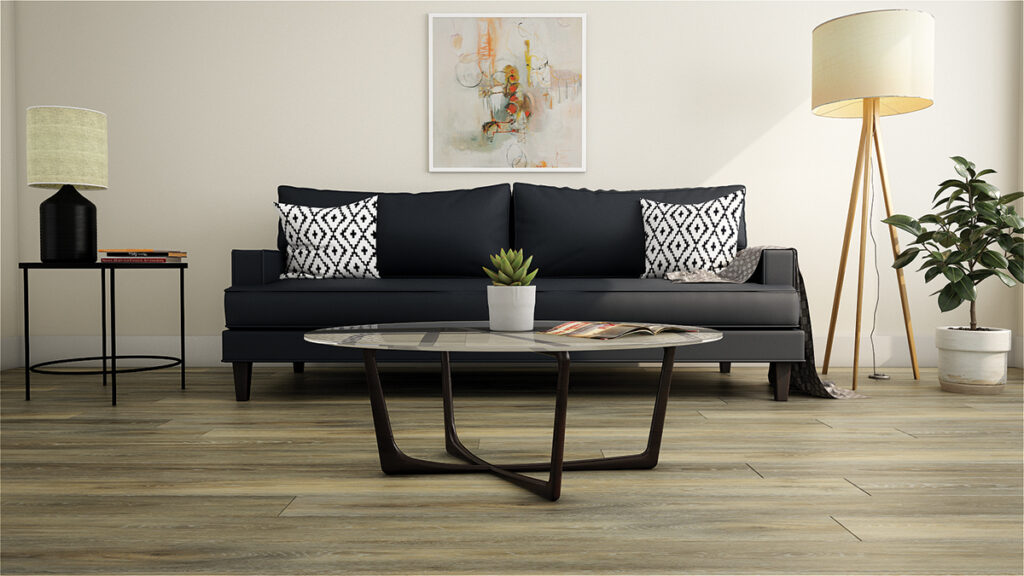 Q: You can't do research about flooring and not see or hear the terms LVP and LVT? What's the difference and what does the acronym mean?
A: LVP and LVT stand for Luxury Vinyl Plank and Luxury Vinyl Tile. Luxury vinyl is a great product, especially for homeowners here in Florida because it stands up to the climate so well. It's durable, but a fraction of the cost of real wood. It's also waterproof and great for families with small children and pets. The difference between the planks and the tiles is that the planks are designed to look like wood, so it mimics the look of real hardwood floors. The tile part of luxury vinyl tile means exactly that. The vinyl is designed to look like ceramic tile instead of a wood plank, but like the plank, it has the durability of vinyl at a great price.
Q: What is LVP/LVT made of?
A: There are several layers that make up a luxury vinyl product. The first and most important is the core. This is the foundation of the floor, and it is made with a mix of vinyl, plastic and fiberglass. The core gives the product strength. Next comes the design layer. This layer is a thin piece of film that is printed to look like wood or tile. There are a ton of color options available today from light to dark and everything in between. There is a color and style for everyone. The last layer is the top layer, which is called the wear layer. It protects the floor from scratches and water. In addition to those, some products also come with a layer of padding or underlayment that offers cushion and sound absorbing qualities.
Q: So LVP/LVT is great for Florida weather?
A: Yes. It's very durable in heat and high humidity and if you are near the beach, sand and water should not affect it.
Q: When shopping for flooring you also see the acronyms SPC and WPC. What does that mean?
A: SPC, or stone plastic composite or stone polymer composite, is also known as rigid core flooring. It is by far the strongest product that you can buy. It's waterproof both from above the floor and underneath it so it can truly be installed anywhere in your home, even on floors that aren't completely flat. It's one of the more expensive products on the market, but its durability and long-term life can't be beat.
WPC, or wood plastic composite, is very similar to SPC with some slight differences. WPC is also 100 percent waterproof above and underneath the product and, like SPC, means you can use it anywhere in your home including kitchens and bathrooms. It is slightly softer than SPC so it's more comfortable to walk on. Both are great options for homeowners or even for commercial spaces and they come in beautiful colors to fit any design style.
Q: What is laminate and is it better than LVP/LVT?
A: Laminate has come a long way over the years. The product has evolved and is making a comeback. It is also very durable and like vinyl, mimics the look of real hardwood at a fraction of the cost. It also has layers like vinyl but it's harder and resists denting. It can also be installed in almost any space. They are even making some products waterproof now.
Q: What's your most important advice when buying flooring?
A: The most important advice I can give is to communicate with your salesperson to choose the right product for your lifestyle. If it's a room with high traffic or if you have children and pets, share that with your salesperson. They will guide you to a product that will work for you and your budget. That way you will be completely satisfied with your investment.