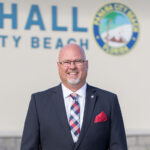 By Mayor Mark Sheldon
Bay County has a strong military presence, as three different branches of the armed forces are located here. We are extremely proud that Tyndall Air Force Base, Naval Support Activity, and a U.S. Coast Guard Station call Bay County home.
All of these facilities play an integral part in our nation's defense, and they contribute greatly to the economy of this community. Their sheer presence gives each one of us a stronger sense of security.
Since Tyndall's opening in the early 1940s, thousands of airmen and support personnel have been stationed here and trained at this facility. These men and women are a part of the most advanced and powerful air force in the world.
Because of the presence of these installations, our area has a larger population of current and former military. Many came here for a short stint, fell in love with the area and stayed after their service concluded; or they went off to other places to finish their military careers, and then returned.
Our community appreciates and recognizes the contributions of all those who have served. But we don't just want to recognize those we lost on Memorial Day, or those who served on Veterans Day. Now, we have a means by which to honor these brave men and women throughout the year.
The City of Panama City Beach is announcing our new Veteran Hero program, whereby anyone can purchase a banner saluting a parent, child, sibling, or friend who served in the military. Anyone who served this great nation in any capacity can be honored with a patriot banner, which will be placed around July Fourth on the light posts along Powell Adams Road.
Each banner will contain a photo of the servicemember, their name, branch of service and the war/conflict they served in. It is not necessary that the veteran be a resident or former resident of Bay County. These banners will remain in place through Veteran's Day, then be returned to the family.
This community, this country, owes a huge debt to our men and women in uniform, past and present. Veterans have protected our country, our freedoms and our values. They did this by putting their lives on the line. They left their families to protect all our families. It is important to remember their service and honor our veterans and their families.
To participate in the Veteran Hero program, download the form on pcbfl.gov under How Do I/Honor a Veteran Hero. Send it to Communications Director Debbie Ingram at City Hall, 17007 Panama City Beach Parkway, Panama City Beach, FL 32413. Please include a photograph, which will be returned. Banners are $100 each.
If you have concerns or questions you would like Mayor Sheldon to address, email Communications Director Debbie Ingram at debbie.ingram@pcbfl.gov.