By Pam Anderson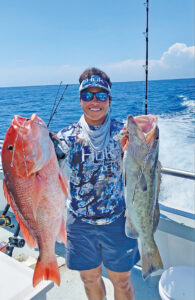 Summer is in full swing and so is fishing! Whether you fish from a pier, a private or guide boat, a charter boat or head boat, chances are you are catching some nice fish to brag about.
The focus this time of year in the Gulf is Red Snapper or Gag Grouper, but there are plenty of other tasty fish in the sea – Vermilion Snapper for one.
With the seas so calm this time of year, the private yachts and guide boats can Gulf fish and are coming in with some great catches.
Families are taking advantage of the opportunities to visit Shell Island and watch the dolphins play. Have you seen a Mama dolphin bring her baby around to show him off? What a treat that is! And, yes! It does happen. I think they like watching us as much as we enjoy watching them.
Water sports galore are available throughout the Grand Lagoon area.
Brides are making wedding plans, businesses are having their meetings and non-profits their seminars and fundraisers at the Event Center. What a great view from that second floor!
If you want local cuisine – seafood, steaks, Mexican, Chinese, Italian or just a great burger, the Grand Lagoon has it all.
Fireworks! Everybody loves fireworks! Grand Lagoon Coalition is hosting Freedom Rocks fireworks parties all around the Grand Lagoon on July 3 – Treasure Island, Pirate's Cove, St. Andrews State Park, Sheraton PCB (Bay Point), Lighthouse Marina, and, of course, Capt. Anderson's Marina's Dockside Grille, will have front row seats on their upper deck. There will be cruises into the Lagoon to watch very up-close and personal if you prefer.
On July 4, downtown Panama City will host its Annual Fireworks show. You will see boats from all over the bay area going out to watch that show. From Capt. Anderson's Marina, we will have trips to watch the downtown event on two or three of our big boats with DJs for entertainment there and back. Great family fun!
No matter how tough the times might be, America has a lot to be thankful for and this is the time to celebrate!
Folks are coming from far and wide to enjoy all that beautiful Grand Lagoon has to offer here on Panama City Beach. We welcome you all! You won't find an area of the beaches that has more local family-owned businesses all nestled in one area as you will here in the Grand Lagoon area and along Thomas Drive.
Come join us! Life is good on Grand Lagoon!
Signing off from,
Capt. Anderson's Marina…Where the fish are always biting and the kids are always smiling.