By Brittany Kirke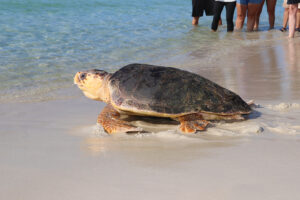 Panama City Beach is a unique and well-equipped area to see success in programs that rescue, rehabilitate, and release. One such organization is Gulf World Marine Institute Inc. (GWMI). As an established 501c3 nonprofit organization, they serve as the only long-term marine mammal rehabilitation and the largest sea turtle rehabilitation facility in northern Florida. They are responsible for conducting permitted activities through the National Marine Fisheries Service (NMFS) and the Florida Fish and Wildlife Conservation Commission (FWC). Their main response area covers South Walton beaches to the St. Mark's River and has some of the highest numbers of marine animal strandings in North America.
Although it is a unique organization separate from Gulf World Marine Park, Lauren Albrittain stated that the park is the "largest asset provider" and acts as a "sister company" for GWMI. Gulf World Marine Institute Inc. has three core programs as their focus. The first is to lead, assist, and manage the recovery and rehabilitation of stranded, sick, or injured marine mammals and sea turtles. The second is to serve as an environmental educational tool for the local and national community. And through their third core program, they strive to help facilitate marine and oceanographic research on a local and national level.
A major part of GWMI'S program is to bring awareness to the locals and tourists of the Florida Panhandle who may stumble upon a situation with a stranded marine mammal or sea turtle and not know how to properly assist the animal.
Lauren Albrittain and Secret Holmes, the two main contacts for the organization who remain "dedicated to the nonprofit" end of things both stated that if there is a stranded mammal or sea turtle washed up on the beach, do not attempt to send it back into the water. Please call the Florida Fish & Wildlife Conservation Commission at (888) 404-3922 or dial #FWC if you see a stranded or deceased dolphin, whale, or sea turtle. GWMI will then respond as quickly and safely as possible to ensure that the animal gets the care it needs. For ease of assistance, please have a description of the animal's size, location, and what has occurred. Also report if you see a marine mammal or sea turtle acting out of the normal, purposefully beaching themselves, or caught in fishing gear or marine debris.
In addition to assisting those who can make an impact on the lives of these stranded mammals, GWMI places a great importance on respecting the habitats in which these marine species live. Part of the success of this program can be attributed to having a healthy and stable working relationship with the local and state-wide sea turtle nesting programs, local pier management organizations, and other environmental protections programs. Both the National Marine Fisheries Service and the Florida Fish and Wildlife Conservation Commission have written documents in support of the work that GWMI has done and continue to do as they work towards the mission of the organization.
If you would like to volunteer with Gulf World Marine Institute Inc., please visit www.GWMI.info to begin the application process.