By Pam Anderson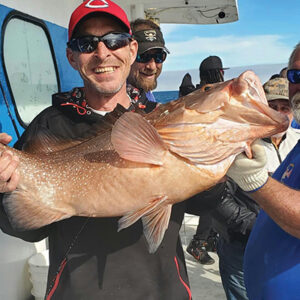 What a summer! Thank you to all who ventured out to fish and take advantage of all the great activities here in the Grand Lagoon area – great food, great fishing, and great water sports!
But wait! There's more! "As the temperatures cool down from the 90's and the water begins to cool down, fishing becomes even better!" says Capt. Mike Sullivan, owner of Capt. Mike, Capt. Hank and Lady S charter boats. He should know! He is one of the best charter boat fishermen in Bay County.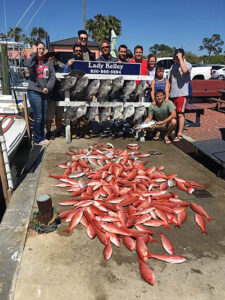 Triggerfish, Red Grouper, and Amberjack are being caught offshore, especially Triggerfish (you know that very ugly fish that is so delicious?)
Mahi Mahi, or dolphin (fish not porpoise), as well as King Mackerel are plentiful trolling near the coastline, about five to six miles out.
Fall is a great time to visit PCB to fish, to golf, and just enjoy the outdoors – what could be better for you to fight off all those pesky viruses that seem to be hanging around?!?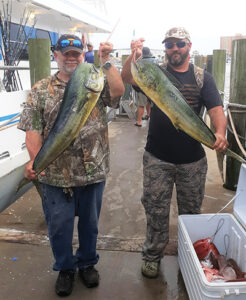 Folks are still encouraged to take precautions to protect themselves and their families – hand washing, social distancing, and masks, if you prefer, in inside areas. When sick, stay home. But we don't live in fear here. We do our best to protect you and our staff; be smart but enjoy your freedoms! Sunshine is the best natural medicine so we hope you will come and enjoy it!
Some events have been cancelled in our area or 'gone virtual' like the Pirates of the High Seas Festival in October. The PCB Fishing Rodeo is still on! We are adjusting our 'Kids Day' activities to protect all who come; updates will be on the website at pcbeachfishingrodeo.com.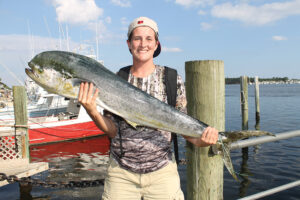 Speaking of the Rodeo, here is a message from the PCB Fishing Rodeo Tournament Director, Joe Laymon!
Wow, Panama City Beach, Bay County, and the surrounding area has been eagerly awaiting this Fishing Tournament. Over the past few years, I have had the privilege of talking with several Boat Captains and First Mates regarding fishing tournaments and lack thereof in our area. Most people remembered the Billfish annual tournament and how much fun that tournament was. Over the course of several conversations we quickly discovered a demand for a sizable fishing tournament for this area in a BIG WAY! Following all the chatter we decided to get a little more serious and make it happen!
We are excited to bring to you the PC Beach Fishing Rodeo. This tournament is a three weekend, 17-day event with two weigh-ins daily from 12 p.m. to 2 p.m. and 4 to 7 p.m. from Sep 24 to Oct 10, 2021. Check it out at pcbeachfishingrodeo.com!
You can also find more info on all the great opportunities in the Grand Lagoon area at www.grandlagoon.com.
When planning your fishing trip, remember Capt. Anderson's Marina… home of three large headboats, 35 private charter boats, and four dive boats… and Shell Island/Dolphin Cruises.
Capt. Anderson's Marina…Where the fish are always biting and the kids are always smiling. www.captandersonsmarina.com.