By Charissa Thacker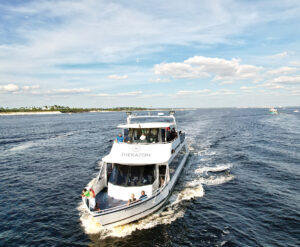 The Sheraton Panama City Beach Golf & Spa Resort, located right here in the Grand Lagoon, is excited to bring dining cruises back to the area for their guests and for the local public. The recently purchased 78' cruising yacht, The Champagne Lady, embarked on its first Sunday Brunch Cruise on October 17, and has been delighting guests with sold out cruises every week.
It's been four years since the last dining cruise was available in our community when the Betsy Ann Riverboat left the area in 2017. Many locals may remember the popular Lady Anderson dinner boat at Capt. Anderson's Marina that serviced locals and visitors to Panama City Beach for several decades until 2013. For those who have been missing this festive dining opportunity, the wait is over. "An upscale dining cruise has been missing from Panama City Beach for several years now, and we're so excited to bring this unique experience back to the community," shared Matt Sutherland, Sheraton General Manager.
With seating up to 30 passengers for sit-down dining cruises or up to 100 passengers for reception style excursions, the Champagne Lady offers a large cabin, two full bars, observation deck, and the culinary talents of new Executive Chef, Jason Altman. A longtime Gulf Coast resident, Chef Jay brings a fresh coastal taste to Champagne Lady's Menu.
Reserve Your Spot for New Year's Eve
A three-hour cruise takes place on December 31 from 5 to 8 p.m. that will include a Dinner Buffet, two Complimentary Drinks, and Live Entertainment from Brad Burke. After the cruise, the party continues at TIDES Lounge with live music and a Champagne Toast at midnight! This event is for guests 21 and older only; cost is $130/person + service fee and tax. The cruise has limited seating so please book early by calling the Sheraton Sales Office at (850) 236-6033.
Sunday Brunch Cruises
Sunday Brunch Cruises are now taking reservations and additional cruise options are planned for Spring 2022. Sheraton PCB will be hosting various holiday cruises throughout the year as well. The upcoming "Breakfast with Santa Cruises" have been a huge success with demand requiring two additional cruises to be scheduled.
Locals once again have a fun way to celebrate anniversaries, birthdays, work celebrations and more. In addition to the weekly dining cruises, the vessel will also be reservable for private parties, group events, and a new venue for an intimate coastal wedding on the water! Call the Sheraton Sales Office at (850) 236-6033 to make reservations for your next cruise!