By Marta Rose-Thorpe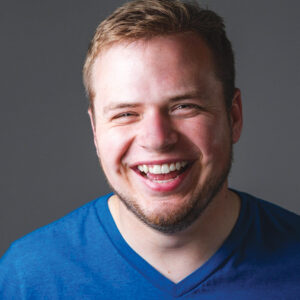 Jayson Price is a busy man. Running three businesses, located in Grand Lagoon's Delwood Office Park, keeps this driven creative on the go. Jayson's flagship business, Ripplify Media, was launched in 2017 so he could help businesses be known and understood by shooting story-based video commercials. "In 2017, I was figuring out how to tell stories through video," he shares. "I started at church, telling bible stories with a camera. Actors came in and played roles; it was my role to put it all together." Jayson shot testimonial videos on how people's lives were changed, sharing their God stories and their survival stories after Hurricane Michael. During that time he spent a lot of time on YouTube, researching and learning how to shoot videos, and invested in certifications to learn the tricks of the trade.
Ripplify Studios, Jayson's full-service video podcast production studio, came in October 2021. "I fell in love with podcasts a couple of years ago," he says. "Several of my clients asked questions about podcasting and asked if I produced them. I decided to take a big step, thinking maybe there was a demographic that wanted podcasts. The podcast industry as a whole has stepped up as more and more companies want to hold a conversation around their industry." Jayson decided to open a studio, first putting the idea out to a few associates. The feedback was overwhelmingly positive. He secured several deals to launch, then in October opened his doors.
"I'm noticing the quality of podcasts going up," he states. "Scrolling through social media platforms, you're seeing all of these clips of entertainment, people teaching things, having conversations. I noticed full-length podcasts can be turned into quick 30-second or two-minute highlight clips for social media. We call this micro content. I use the term "video podcast" a lot; if we're going to have this great conversation, we might as well put it on video as well."
Who makes a good podcast client, I ask? "People who have high-ticket offerings," he replies. "Coaches, authors, and people with ideas to share all make good clients. Our Podcast Hosts are wanting to become leaders in their industry, and facilitate interesting conversation that adds value to the listener."
I ask about what platforms he recommends. "Apple Podcasts is the most popular podcast platform, then Spotify, Google Podcasts, iHeart Radio… almost every audio platform can have your podcasts. We put them on every single directory that is possible. Typically, the client doesn't know where they want the podcast to go (which platform) so we put it out there everywhere." Video highlights, he says, go to the person's social media profiles.
And then there is a third business that Jayson and his wife Alexandria run together, Moment in Time Films, a luxury wedding film studio that focuses on highly personalized Video Love Letters. Alex speaks with the brides and runs the business, Jayson does the directing and editing, and their team handles the shooting. For several years Jayson had shot engaging videos of people's weddings… two-to-four-minute highlights that captured the bride's day. The kickstart to launching this business was when Jayson ran into a wedding videographer friend, Jesse, who shared that he had just shot a wedding video but tragically, the bride had passed away in an accident just afterward. "I have all this video footage and don't know what I can do with it," Jesse told him. Jayson thought about it and advised Jesse to go through all the footage – anything with her voice in it – to use in the video. That's when the idea of the Video Love Letter came about, a five-to-seven-minute video for the family. "When the bride or groom (inevitably) passes away, their spouse gets to have these moments and memories. I want that to exist for couples," he says. "I want couples to have a film that displays not just their wedding day but tells the story of their love."
Ripplify Media, Ripplify Studios, and Moment in Time Films are located at 4408 Delwood Lane, Suite 26, in Panama City Beach. For more information, visit ripplifymedia.com.