By Brittany Kirke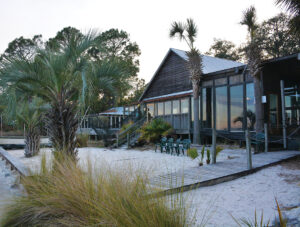 Looking for a fresh and friendly atmosphere with great food and a view to match? Look no further than Boon Docks restaurant. With a beautiful view of West Bay, Boon Docks offers a menu packed with delicious local and regional seafood options. Before heading inside, take a moment to enjoy the scenery along this stretch of the Intracoastal Waterway and appreciate the historic 1941 landmarks now part of Boon Docks, like the old fish house, the Buchanan home, and the old bait store.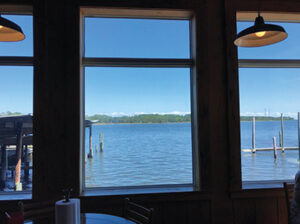 Boon Docks has been around since 1998 and continues to be a staple in the West Bay community. Hilary Head, the owner of Boon Docks, is proud of the high-quality food they serve, stating that they "love having everyone come in and enjoy themselves." They continually strive to provide great food and fantastic service. Hilary's favorite dish is the half and half shrimp and grouper plate, which comes with your choice of two sides and hush puppies, but they also serve delicious shrimp burgers, Catfish Po Boys, burgers, chicken sandwiches, and much more. The seafood used at Boon Docks is caught locally as well as brought in from around the region, coming straight from the waters we know and love.
As you walk inside the front door, you are greeted with a refreshing breath of the bay and welcoming staff. The seating inside is comfortable and even during a dinner rush, you will be sat in a timely manner. When it comes time to place your order, be prepared to taste the delicious blend of spices they use in their grilled dishes and the unique breading recipe for all things fried. Hilary said that their breading is "handmade and cooked to order," which is what makes it so good.
Boon Docks has several mouthwatering entrees for you to choose from. Whether you're craving a classic po'boy piled high with your meat of choice or steamed crab claws, they've got you covered. Their "Half and Half" plate allows you to get the best of both worlds with two half-size options of fresh bay scallops, fried oysters, fried catfish, shrimp, or even grouper for a little bit extra. The scallops, shrimp, and grouper also have the option to come grilled.
You'll get a run for your money with the "Big Catch": five shrimp, five oysters, grouper, two devil crabs, and clam strips. And when they have it available, their blackened redfish special is incredible. It is delightful to experience all the comforting food that Boon Docks has to offer, especially their homemade desserts. With a full bar available, they make sure to have ice cold beer ready for you and delicious margaritas and rumrunners are always on hand. They even stay stocked with funky label fine wines! With generous portion sizes and seafood that is bursting with flavor, you'll be hooked!
In a near post-Covid world, we are all still adjusting to the re-entry into our community outside of our own homes. Boon Docks happily offers Carry Out in addition to their dine-in options for any customers who wish to have a contactless experience. If you're wanting to grab a late-night bite after 8:30 p.m., give them a call at (850) 230 – 0005 so that they know to save you a plate.
Boon Docks is located to the right off Northbound Highway 79 near West Bay Elementary with plenty of parking for even the biggest party.
To view an online menu and read more about Boon Docks and their news, please visit www.boondocksfl.com.