By Brittany Kirke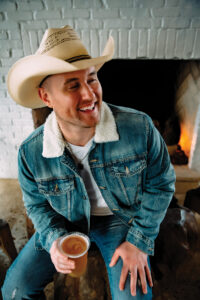 Twice as sexy as two 20-year-olds, Christon Birge is making his mark in the country music industry. His most recent release, "Best Friends Bring Beer," debuted its official lyric video on the first of March in 2021.
Born and raised a humble man in Vernon, FL, Christon found a passion for music at a young age. When he was 15 years old, he worked on a watermelon farm to save up money for his first guitar and one of his three older brothers, Steven, taught him how to play. He was also really interested in sports, winning athlete of the year in Washington County in 2000. Christon recalls being late for classes because he was watching MTV, country channels, BET; he said, "it depends on who was on commercial break."
After graduating from Vernon High School, he received his Associate of Science degree in respiratory therapy at Gulf Coast State College. Christon was the first in his family to go to college; it was his mother's dream. His parents were together for 37 years before she passed. She courageously fought cancer, but sadly passed before he got his degree. He speaks fondly of doing this for her. It was the safe road for him, he checked all the boxes.
But something was missing, and he found music again. His mother would always say "don't say you'll be happy when, be happy now." So, in 2011, he began singing around the region. Christon got his big break in 2014 when he won the talent contest at Tootsie's Birthday Bash. He was then flown to Nashville alongside his longtime girlfriend, Katie, to open for Kid Rock.
After Hurricane Michael in 2018, Christon found himself at a crossroads when his department at Bay Medical Hospital, now Ascension Sacred Heart, was destroyed. He decided to pursue his dream of music as a full-time career.
His passion for music plays into his performance. Christon won't sing a song unless he means it. "Best Friends Bring Beer" is about all the different levels of friends. The tune was written by songwriter pal, Shaun Streeter, and recorded by Birge at Brent Rader Productions in Nashville, TN.
"As soon as I heard the lyrics, I knew we had to cut this song," said Birge. "About a week later we were in the studio in Nashville and the song just came together like lightning in a beer bottle."
The pandemic has brought everything together and highlighted the things we take for granted. And our friendships are what can keep us sane. He felt that it was important to make people forget about the rough weeks, connect everyone, and spread good energy.
"Best Friends Bring Beer" is out now on all major streaming services.
For more information on Christon or to find out about future events, please visit christonbirge.com.
This or That
Cat or Dog – "I had a bull-dog named Tank."
Call or Text – "I'm old school, I prefer to call. But my favorite emoji is the Cheers Beers!"
Big party or Small gathering – "They are both great, big is good when performing, small is good for friends."
Work or Play – "If you do what you love, you'll never have to work a day in your life, so play hard."
Coke or Pepsi – "I grew up on RC Cola actually."
Pen or Pencil – "I'm always breaking the lead because I'm writing too fast or hard, so I prefer pen."