By John Trubia, Executive Chef, Paparazzi Gourmet Deli and Catering
I have been cooking for my family and friends my entire adult life and I always prepare what I can ahead of time. That way I get to enjoy being with everyone instead of stressing in the kitchen.
Every caterer works ahead of a planned event and there is no reason you should not do the same for the upcoming holidays. Trust me on this, make ahead sides, gravy, dressing and deserts will change your entire perspective on holiday entertaining.
So, how do caterers achieve that 'just cooked' freshness? The secret is simple – freeze it! Yup, freshly prepared foods, cooled then frozen promptly in airtight containers will dethaw and warm in the oven, or in chafing dishes, as fresh and flavorful as any you cooked from scratch that day. Possibly even better, as they won't have been sitting around all day on the stove or countertop waiting for late guests to arrive.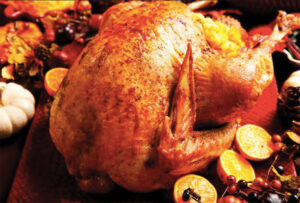 The key is freezing your food properly. It is absolutely crucial that you remove as much air as possible. A vacuum sealer is a great investment if you plan on preparing make ahead meals on a regular basis. But in a pinch, sealed plastic bags are a great substitute. Just make sure you push out as much air as possible. If the item is too big for a bag, use cling film, but again press it tight against the food removing any air barrier that could crystalize and damage the food.
Lay bagged liquids, like soup and gravy, flat on sheet pans till frozen, then you can neatly 'file them away' without using up too much room in the freezer. It's also important to clearly mark everything so you know what's what on the day.
If you are warming everything through in the oven, make sure the dishes are covered tightly with foil (and please don't forget to take off the plastic wrap first!). Personally, I prefer using chafing dishes, and sternos. They are not expensive and can be purchased from most large box stores. They warm more gradually and will keep food warm throughout service and into second helpings, without drying it out or scorching it. Just make sure to keep plenty of water in the base. It also frees up the oven for the turkey. Just think, that could mean you don't have to get up at silly o'clock to put the bird in the oven, so it's out in time to cook everything else.
Another great advantage to making ahead meals is you have time to fail and repeat. Don't like how the mashed potatoes turned out? Just make them again. Gravy too lumpy or too salty? No problem, you have time to make everything perfect.
Freezing is also a great way to avoid leftover overload. You don't have to eat all your leftovers in five successive days. Cut the turkey off the bone in small manageable slices. Put some aside with some dressing and cranberry sauce, for Friday and Saturday sandwiches, and put the rest into portioned controlled bags, add a little chicken stock, date and label each bag and freeze flat. Bingo! You have turkey ready to thaw and serve for several months to come. Same with all your sides. Take it from a Pro, having homemade gravy on hand at a moment's notice can be life altering, so keep that I mind when deciding how much to make in the first instance.
Food is all about bringing people together, not tearing us apart as we fret and stress over every little last-minute detail. So, go – get a head start on this year's holiday cooking and make it a truly Happy Holiday!