By Peter Fischetti
No doubt you're familiar with the 1992 rock song "Uke of Earl" by Gene Chandler. And these days we read about the impending World War III battle between two ukelear powers. So yes, the ukulele has played a significant role in our nation's history.
While there's no reason to stop the presses, it's nice to hear that the Panama City Beach Senior Center has received a donation. There were strings attached, but no one was complaining since the only tune you can play on the ukulele without strings is "Sounds of Silence."
Yes, the senior center now owns six sparkling new ukes, complete with carrying cases and tuners, thanks to the generosity of the Ukulele Orchestra of St. Andrews.
I have a personal interest in this gift as a senior center member (and now on the board) who took uke classes there last year. I did so by checking out an instrument from the city's public library down the block. I was encouraged enough by the instructor—"Peter, that was a good note a minute ago"—that I purchased a uke and practiced religiously. (That doesn't mean I just played religious music.)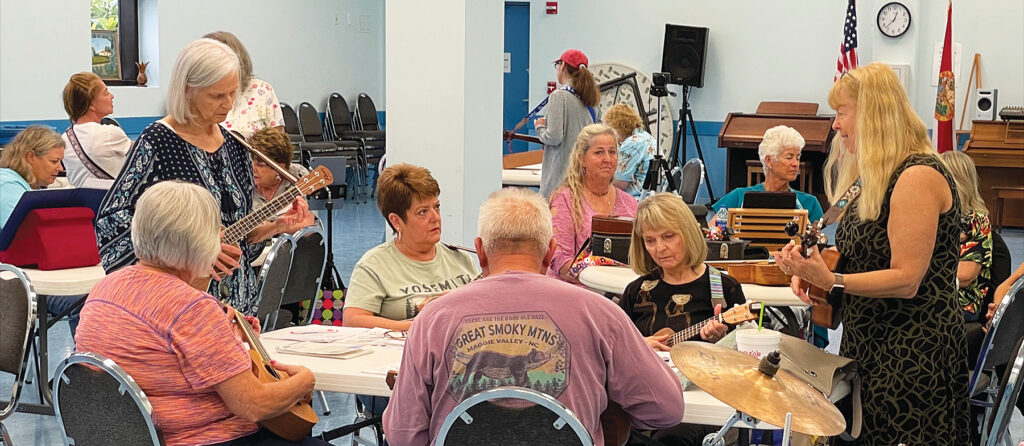 In fact, within a week I could play "This Land Is Your Land." And a week later, I nailed "This Land Is My Land." Moving along line by line, I hope to reach "From the Redwood Forest to the Gulf Stream Waters" before widening is complete on Front Beach Road.
As you know, the ukulele dates to the 1880s, introduced in the Hawaiian Islands by Portuguese immigrants. While sales of the instrument have risen and fallen over the years, it became really popular in the 1950s thanks to Arthur Godfrey and later Tiny Tim, whose rendition of "Tiptoe Through the Tulips" inspired Jimi Hendrix to take up the ukulele. (He couldn't find one, the story goes, so he bought a guitar.)
But back to the donation. When I took lessons last year, I practically had the instructor to myself. At a Friday class last month, more than two dozen students filled the activities room at the senior center. It was the first lesson for about half of them. And following the class, they were joined by another 18 members who were more experienced and sounded great playing together. Many had started by borrowing an instrument from the library. Now the center has six to share with members.
"It is wonderful to get a donation like this," the center's volunteer president, Mugsy Parens, said. "Otherwise, a lot of our seniors would not be able to purchase a ukulele to find out if they really wanted to learn to play. This way they have a chance to experience playing and learning. We have had a great response to our program and hope that we can continue to expand our programs with donations like this one."
Jody Wood-Putnam teaches the class and is the gig manager for the Ukulele Orchestra, which performs throughout the Panhandle to raise money to support music education and, she said, "have fun." As part of a current grant campaign, the orchestra is donating instruments to non-profits, including senior centers.
Before the donation, she explained, her class had one ukulele for folks without an instrument who wanted to play. "If we had more than one person show up, we had to tell them to go to the library and check one out and come back later. Unfortunately, the library's ukuleles sometimes were all checked out also, so folks sometimes couldn't even do that. Now folks can try out playing a ukulele without having to commit to buying one."
The class, she said, "gives me such joy to see everyone enjoying themselves and the camaraderie that has developed within the class. I feel so fortunate to be part of such a wonderful group as they gain confidence in their playing, and some of them have become quite good!"
I don't think she was referring to me, but that's OK. I won't fret about it.
To join the class, call Sue Peipert at the senior center (850) 233-5065. For more information on the Ukulele Orchestra of St. Andrews, visit www.standrewsukes.org.
Peter Fischetti is a retired journalist from Southern California, which he hopes you won't hold against him. He lives in Panama City Beach.