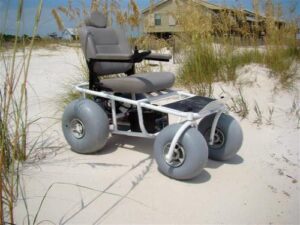 Visit Panama City Beach is pleased to announce the launch of its new "Fun.For.All" initiative, which promotes accessible travel and highlights the destination's commitment to welcoming all visitors. The announcement comes at the start of National Mobility Awareness Month, a time dedicated to raising awareness and solutions for mobility challenges that affect over 18 million people in North America.
"Accessible travel is a top priority for our destination and community," said Dan Rowe, Visit Panama City Beach president and CEO. "We believe every traveler should be able to experience our beaches, restaurants, hotels and resorts, as well as the endless activities and events we offer year-round."
The destination's Fun.For.All initiative is in alignment with VISIT FLORIDA's statewide accessible travel campaign, "Limitless Florida," which highlights resources and activities across the state for visitors with special needs. Throughout Panama City Beach, travelers can access the beach using elevated boardwalks, beach wheelchair rentals, Mobi-Mats and accessible fishing piers. Visitors can also enjoy an array of accessible attractions, restaurants, and accommodations that elevate the vacation experience.
For more information on the initiative, please visit: www.visitpanamacitybeach.com/plan-your-trip/accessibility.