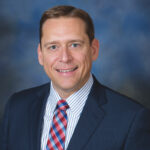 By Chuck Perdu, Bay County Tax Collector
Changes Impacting Florida Drivers State To Pilot a Mobile Driver License
The Florida Department of Highway Safety and Motor Vehicles (FLHSMV) announced in October they would begin to pilot a mobile driver license by the end of the year. The pilot will consist of an extensive controlled period with select participants from the public and partner organizations to gather feedback.
FLHSMV identifies three key benefits of the mobile driver license: security, privacy and interoperability. According to FLHSMV, the mobile driver license is much more difficult to counterfeit which will give businesses and public entities a higher level of assurance as to a person's genuine identity. Additionally, the license would allow the customer to decide which elements of their identity they want to release and to whom. Thirdly, the mobile driver license and mobile driver license verifier are being built to ensure the mobile driver license can be consumed and verified by businesses, governments and law enforcement agencies outside of the state of Florida, just like the current physical driver license.
The pilot program will kick off in December with the launch and public production of the mobile driver license intended for mid-2021.
The mobile driver license will be optional for consumers and would be available through an app. Following the download of the application onto a consumer's phone or tablet, the individual would then begin an enrollment process which includes a framework of encryption and cybersecurity features. The mobile driver license would frequently connect to FLHSMV's driver license system to ensure the information and credential's status remain current.
"I'm curious to see how the system works and learn more through the pilot process. Anytime technology can provide more convenient options to the customer and save a trip to an office, I consider it a win," said Bay County Tax Collector Chuck Perdue.
The pilot program will focus on three mobile use cases which include law enforcement roadside stops, age verification for +18 and +21 and driver license/motor vehicle consumer notifications. There are a number of other use cases for the mobile driver license FLHSMV will look to pilot and make available in the future.
Registration Renewal Period Changing for Owners of Heavy Trucks
The registration renewal period of hundreds of thousands of heavy trucks weighing between 5,001 pounds and 7,999 pounds is changing from December to the primary registrant's birthdate. The state-wide change affects heavy trucks owned by individuals only, and not those owned by businesses. The transition to the primary registrant's birthdate will take place during this year's 2020 renewal period.
During this year's renewal, registrants have a few options, allowing them to renew from this December until their birthdate in 2021, or to renew through their birth month in 2022. By Florida law, registrations can be renewed 3 months before their month of expiration. As a result, owners of Heavy Trucks can renew now.
Registrations can be renewed quickly and securely at BayTaxCollector.com. When renewing online with your bank account (e-check), customers pay no additional fee. If you need your registration fast, choose the ExpressLane™ option for same-day or next day pick up at any Bay County Tax Collector Office.