The Friends of Camp Helen State Park are excited to announce the purchase and installation of 880 ft long and 5ft wide AccessRec mats half-way to the beach at Camp Helen State Park.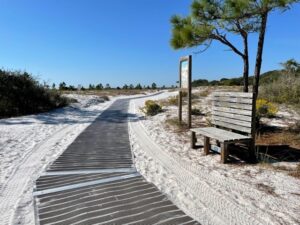 Because of the community's support of kayak rentals and the pumpkin patch, the CSO was able to fully fund this project for the park without corporate donations or grants.
The mats have been installed along the trail to the beach as well as at the kayak rental area.
The mats provide an easier walk to the beach for everyone but will also accommodate wheelchairs and strollers.
The mats create less impact to the natural resources than boardwalks or other developed structures.
The Friends of Camp Helen hope to continue renting kayaks and selling pumpkins to complete the other half of the mat within a year.
Camp Helen State Park is located at 23937 Panama City Beach Parkway (Highway 98), Panama City Beach, just west of the Lake Powell Bridge.