Historically, the fourth quarter is one of the busiest times of the year for air travel. While this year is unpredictable, we do know more people are flying again. Whether for the holidays or a "workcation" – a blend of a longer-term work and vacation trip – air travel looks to be on the rebound from where it was in April. Then, the industry was down more than 60 percent, compared to the same period in 2019. The good news is ECP was only down and estimated 20 percent thanks to the efforts of our community partners and the desire to see the world's most beautiful beaches.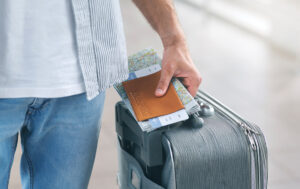 The gradual return of consumer confidence is partly due to the increase in COVID-19 health and safety precautions taken by airports and airlines alike. Northwest Florida Beaches International Airport (ECP) and its airline partners, American Airlines, Delta Air Lines, Southwest Airlines, and United Airlines, have implemented new measures to ensure a safe environment for your next jet set, no matter the occasion.
What to Expect at ECP
The safety and security of our passengers and staff is our top priority. To address the global pandemic, the Airport has developed its ECP Ready Plan, which details ECP's cleaning and safety efforts to slow the spread of COVID-19. ECP Ready outlines an increase in cleaning frequency, along with new protocols and requirements for both passengers and staff. Here's what to expect:
With health and safety in mind, passengers and staff must wear a mask in the Terminal. If a passenger does not have a facial covering, one may be provided. In some cases, passengers are exempt, as is the case for specific medical conditions. All passengers can take a mask break while eating or drinking.
Plexiglass dividers are placed in critical locations. Like interactions at banks, grocery stores, and college campuses, plexiglass dividers have become a standard precaution at certain check-in points to ensure safe human-to-human interactions.
Social distancing is encouraged throughout ECP. Your safe travel experience starts the minute you walk into ECP, with floor decals placed six feet apart to remind passengers to social distance when possible. In addition to the decals, segmented security checkpoints have been activated, and staggered seating is available in waiting areas and restaurants.
Meeters and greeters are encouraged not to enter the Terminal and, instead, wait for their passenger(s) in their vehicle.
What To Expect at the TSA Checkpoint
Just like in the Terminal and on the plane, TSA requires travelers to wear a face mask and practice social distancing, whenever possible. TSA may ask passengers to adjust their mask for ID verification or remove it entirely for a secondary screening.
To reduce physical contact, passengers will remain in possession of their ID or passport and boarding pass. You will be asked to place the items on the reader directly, and then hold them up for physical verification.
Frequent travelers may be familiar with the 3-1-1 rule, which specifies restrictions for liquids. Due to the global pandemic, the policy has been adjusted to allow one liquid hand sanitizer container, up to 12 ounces per passenger in carry-on bags.
What to Expect from ECP Partner Airlines
Check-in may look different with some airlines. ECP encourages all passengers to check directly with their airline before heading to the Airport to learn any new protocols or procedures.
Customers can also expect to see enhanced prevention protocols and procedures from ECP's airline partners once on the airplane. For example, many airlines have upgraded their air circulation systems, implemented stringent cleaning practices, and have taken physical-distancing measures by leaving the middle seat vacant. However, if you are traveling with your family, you may sit together and occupy the middle seat. Airlines are adding additional precautions regularly to ensure the health and safety of passengers and crew.
What to Expect from Ground Transportation
We realize your travel experience doesn't stop or start at our doors. If you need to call for services like Uber or Lyft before heading to the Airport, or upon arrival, rest easy knowing these companies are also taking safety measures. Find out more on their websites.
If you need to call a local ground transportation company like a cab or a shuttle, they too are taking additional precautions to ensure the safety of their passengers. The drivers are wearing PPE, and many are taking additional steps to ensure their vehicles are continuously cleaned for your protection. A list of ground transportation companies can be found on our website, iflybeaches.com.
When you're ready to fly, whether for work, vacation, or a blended "workcation," ECP and its partners are prepared to see you! We will be smiling from ear-to-ear behind our masks, with your health and safety top of mind.