Local Flooring Store's Solutions Pan Out for Panhandle Communities!
Shannon Salisbury, Director of Marketing, Flooring Depot of Panama City
While 2020 was a historical year that many want to forget, lingering issues of the pandemic are felt daily and could impact us throughout 2021 and beyond. The flooring industries' supply and demand problems are included in those lingering issues.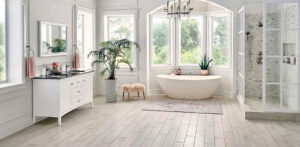 In 2020, we witnessed a solid "remodel, replace and repair" approach by homeowners. As quarantined communities decided to build additions, upgrade and renovate existing spaces to accommodate work-from-home and online school protocols, and tackle often neglected "honey-do" projects, the demand for lumber and building products skyrocketed.
As we entered 2021, the lumber and building material industries continued to explode. With housing, refinancing, and remodeling remaining priorities for customers, the demand for flooring also continues. Consumers are investing more money in their homes.
Homeowners are tackling home remodeling projects or choosing new home construction to take advantage of low interest rates.
Since flooring has immediate benefits to a home—visually and financially—it's one of the first items homeowners increasingly want to update in their remodeling projects. The demand for flooring for remodel projects and new home construction has resulted in supply shortages of both the flooring and the raw materials procured to produce flooring products. Supply chains are experiencing extensive strains with inflation in raw materials, which is driving prices higher.
Companies are battling to get products to the US due to delays with imported products and shipping restrictions. Many of the delayed products required for US manufacturing lead to delays in production processes. With rising raw material costs and operating costs, increased transportation costs, etc., the flooring industry overall continues to see increased pricing in addition to the supply and demand obstacles.
But one local flooring store has solutions to combat the flooring industry supply & demand and pricing issues. In 2020, while witnessing the pandemic's detrimental economic impact on local communities, contractors and builders, and the housing industry in the Panhandle, Flooring Depot of Panama City's concerns prompted them to make a bold investment decision in an effort to alleviate the flooring industry issues at the local level. Flooring Depot expanded their local footprint with the addition of a new, spacious warehouse in Panama City.
The warehouse expansion empowers Flooring Depot to purchase and stock flooring products in volume, so they're able to negotiate lower and exceptional pricing – great pricing they pass on to their customers. The impressive warehouse space and volume buying power allows Flooring Depot to expeditiously and efficiently respond to the local community's flooring needs. In fact, Flooring Depot has the largest selection of in-stock flooring products available in Bay County, with over a million square feet in stock!
Driven by their commitment to provide customers with incomparable service, an extensive product selection, and solutions for customers' flooring needs, Flooring Depot continuously strives to exceed customers' expectations. Their vision and determination to solve flooring issues at the local and industry-wide levels, always focusing on customers' needs first, guarantees a great experience and relationship when you choose Flooring Depot of Panama City.
Flooring Depot of Panama City invites you to visit their impressive showroom and experience the Flooring Depot difference.
Stay tuned for flooring tips-trends, fashions and favorites in future Flooring Depot articles! For learn more, visit Flooring Depot of Panama City's website, flooringdepotofpanama.com.