By Kim Brazell, Marketing Director
The new, 2,000 square foot, blue building sits along Back Beach Road in Panama City Beach. Its yellow sign signals that Flooring Depot of Panama City has expanded and is now serving customers on the beach side. The decision to expand was a natural one for Flooring Depot of Panama City owner Barry McEntire.
"If you are from Panama City or have lived here for any length of time, you will hear the phrase 'I don't cross the bridge," says McEntire. "It's a convenience factor for customers and by opening this location, our store, products and services are more accessible to our customers who live on this side of the bridge."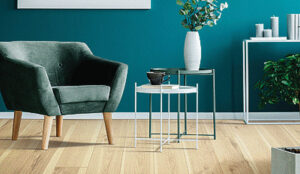 Flooring Depot PCB, which opened on Monday, November 1, showcases some of the major brands carried in the main store on W. 15th Street. "It's not the size of our store in Panama City, but it gives us the opportunity to showcase some of our more popular products. And even though our customers may not want to cross the bridge, we don't mind," adds McEntire with a smile.
"We can deliver from the main store to the PCB store daily, so customers don't have to wait on product. We are fortunate to have a huge warehouse at our main location where we stock a number of major brands. And with shipping costs going up rapidly and products stuck on ships off the coast of the United States, that's a really good thing. It equates to savings for our customers both in time and money."
Sean Palamarczuk will run the new PCB store and he is excited about working with his friends and neighbors on the beach. "I live like two miles from our new store, so for me, this is like coming home," says Palamarczuk.
When asked what his goals are for the new store, Palamarzcuk is quick with his answer. "There are actually several things I would like to do. First and foremost, I want to continue creating great relationships with our customers and our contractors that we work with– just like we do at the main showroom in Panama City. We aren't looking to just make a sale, but to create a working relationship with the people coming through our doors."
Palamarzcuk adds, "The second thing is to help our customers create their dream homes, rooms or spaces. Listening to their wants and needs and helping them find the perfect product is always the most rewarding part of this job."
Lastly, he smiles and says, "I want to outgrow the space. I want us to work hard, and for people to hear about our products and service on this side of the beach, and I truly want to need a bigger space."
Flooring Depot PCB will carry all the major products such as luxury vinyl plank, carpet, tile, and hardwood from our major manufacturers including Mohawk, Karastan, MSI, Engineered Floors, Hallmark, Happy Feet, Florida Tile, Southwind, Marquis, and many more. The store is organized by types of products which makes it easy to browse what you are looking for.
"This is an exciting time for Flooring Depot," says McEntire. "We are looking forward to expanding our customer base at the beach."
The new Flooring Depot PCB is located at 19700 PCB Parkway, Panama City Beach. The store is open Monday through Friday, 8:30 a.m. until 5:30 p.m. and on Saturday from 8:30 a.m. until 2 p.m. You can reach the store by calling us at (850) 785-2216 or emailing us at seanp@flooringdepotofpanama.com.