By Pam Anderson
Whatever your flavor of fish or type of fishing you prefer, the PC Beach Fishing Rodeo has a place for you!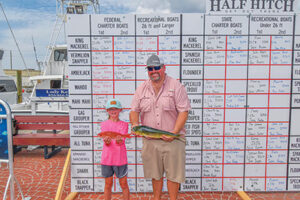 Anglers from all over came daily to weigh in their catches September 24 thru October 10. From kayaks to private yachts to pier anglers, as well as Charter, Guide and Head-boats, participants came to see their fish weighed in and marked up on the leaderboard. Some were little guys, 8-12 years old, some were pretty salty, and one, Meredith McCord, a Professional Fly Angler, broke the world record with a 30.9 pound Amberjack (AJ) fly fishing!
Day one on September 24 started off with a bang, with a 70.2 lb. AJ brought in on Tail Hunter Fishing Charters as well as an 11.9 lb. Gag Grouper. The Kelley family stepped up bringing in a 20.9 lb. King Mackerel on the Kelley Girl, a 2.6 lb. Vermilion Snapper on the Miss Kelley, and a 23 lb. Blackfin Tuna on the Lady Kelley.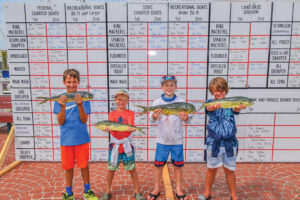 That set the stage for the rest of the tournament; anglers from all over Bay County began bringing in their catches and filling the leader board.
As of this writing, these are the top catches in each of the categories from daily listings:
Day 1: Amberjack (Rod & Reel) 70.2 lb. caught on Tail Hunter Charters by Jared Tidmore
Day 6: Yellow Edge Grouper-6.8 lb. caught on the Pegasus by Leslie Alford
Day 7: Gag Grouper – 38.6 lb. caught on Chances R by Blake Ingram
Day 8: Scamp – 6.3 lb. caught on the Great Escape by AJ Ashley
Day 9: King Mackerel – 36 lb. caught on Perra Mala by Lance Rucker
Day 11: Vermilion Snapper- 5 lb. caught on Heritage Excursions by Mason Hall
Day 11: Blackfin Tuna-25.3 lb. caught on Heritage Excursions by Tyler Mercer
Top catches in categories not on the Daily Winner List are:
Mahi-mahi – 9.1 lb. caught on the Chances R by Chad Spradlin
Wahoo – 49 lb. caught on the Kelley Girl by Sam Hacker
Red Fish with 9 spots caught on the Catch um' Up by Pete Turner
Daily catches as well as all categories are listed daily on our website at www.captandersonsmarina.com as well as www.pcbeachrodeo.com and both Facebook pages. Lots of pictures and winner listings will be up throughout October.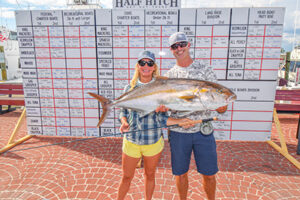 Chasin' the Sun Fishing Show also has highlights from the event. Speaking of which, we want you to know just how impressive that catch was for Professional Fly Angler Meredith McCord. Her 30.9 pound Amberjack was not only caught fly-fishing, but on an 8 lb. test line with a size 2 hook! Now that is impressive. Congrats to Meredith on her record-breaking catch!
Our final winners will be posted by the time you receive this issue of PCB Life. Be sure to see if your angling friends made it to the finals!
The Grande Finale & Awards Ceremony weekend, October 9-10, featured great family fun for all. Besides the great Awards Ceremony, there was a day of Reel Kids Fishing Rodeo sponsored by the Reel Ladies of PCB, a Pirate Party with the Pirates of the White Sands, Puppy Costume Contest, Live Entertainment by Will & Lindsey Thompson, and, of course, Grand Lagoon Fireworks presented by Visit Panama City Beach and a whole lot more!
We thank our many sponsors, the TDC, and local fishing organizations for their support this year. Many are already signed up for 2022! Private anglers get ready!
If that isn't enough good news… red snapper season re-opens for federally permitted head-boats and charter boats October 15 through November 5 at midnight. Reserve early on your favorite charter or head-boat for this added season for red snapper.
When planning your fishing trip, remember Capt. Anderson's Marina… home of three large head-boats, 35 private charter boats, and four dive boats… and Shell Island/Dolphin Cruises.
Capt. Anderson's Marina…where the fish are always biting and the kids are always smiling.