It is time to fall in love with live theater all over again. Emerald Coast Theatre Company (ECTC) continues its eighth annual season on the Northwest Florida Gulf Coast in October with four distinctly different productions that offer something for all ages.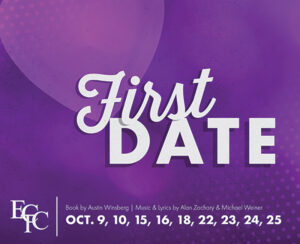 In accordance with CDC guidelines, all offerings will be performed in ECTC's performance space located at 560 Grand Boulevard, in Grand Boulevard at Sandestin in Miramar Beach.
The first offering of the season on ECTC's Professional Theatre Mainstage is First Date. The book for this musical comedy is by Austin Winsberg with music and lyrics by Alan Zachary and Michael Weiner. A new musical, First Date debuted at Seattle's ACT Theatre before going to Broadway in 2013.
"Everyone needs a laugh these days and this musical comedy is sure to provide it," says ECTC co-founder and producing artistic director Nathanael Fisher. "If you have ever dated or even thought about dating, this is the musical for you."
Adam Silorey (Dancing Lessons, Around the World in 80 Days, The Fantasticks, Buyer & Cellar) returns to ECTC's stage from Chicago. Brooke Meyers of Kansas City, Missouri, makes her ECTC debut. Regional credits include (Linda Mason) Holiday Inn, (Lori Beth) Happy Days, (Jovie) Elf and (Janet Weiss) The Rocky Horror Picture Show.
October 9th to 25th. Tickets $36 per person for adults; $34 for seniors (55 years old and up) and military and $30 for students (must show ID).
New this year, ECTC is introducing Second Stage, a more intimate space that will showcase musical cabaret acts, as well as small bands, solo musicians and performing artists. The first event will be Cabaret on the Boulevard, featuring live musical selections performed by talented members of the First Date cast. Tuesday, Oct. 13th. Tickets $22 for adults; $20 for seniors/military; $18 students.
On Oct. 20th Second Stage will feature Cabaret on the Boolevard – spine-chilling selections from "spooky" Broadway shows such as Wicked, The Addams Family, Beetlejuice and others. Showtime 7:30 p.m. Tickets $22 for adults; $20 for seniors/military; $18 students.
Rounding out the four October performances will be Dot and Ziggy, a play by Linda Hartzell and Mark Perry, a Theatre for Young Audiences (TA) production. The cast features ECTC Junior Company members Clara Taylor (Dot), Sasha Blair (Ziggy), Rylan Shaffer (Spider).
Children in the audience will get to experience this hands-on show with all of their senses as they become part of the story. This colorful play creatively utilizes music, dance, movement and touchable props to envelop our young audience members and inspire their imaginations.
October 23rd, 24th 30th & 31st Showtime 9 a.m. Tickets $18 for adults; $16 for seniors/military; $12 for children 4 to 12; children ages 0-3 are free and must sit on an adult's lap. Proceeds benefit ECTC and its Theatre Education programs.