By Anna and Nathanael Fisher
What do roller skates, mall hair, leg warmers, jean shorts, neon green and Greek Mythology all have in common? They're just a few of the '80's throwbacks you'll find in Emerald Coast Theatre Company's production of Xanadu! This Tony Award-nominated, hilarious musical adventure is about following your dreams despite the limitations others set for you. The original hit score composed by pop-rock legends, Jeff Lynne and John Farrar rolls along at an upbeat, toe tapping pace. Based on the cult classic movie of the same title which starred Olivia Newton-John and Gene Kelly, Xanadu is hilarity on wheels for anyone who has ever wanted to feel inspired. We are kicking (or should we say skating) it up a notch at ECTC with this production… great costumes, heart pumping music, incredible talent, and fabulous lighting and effects!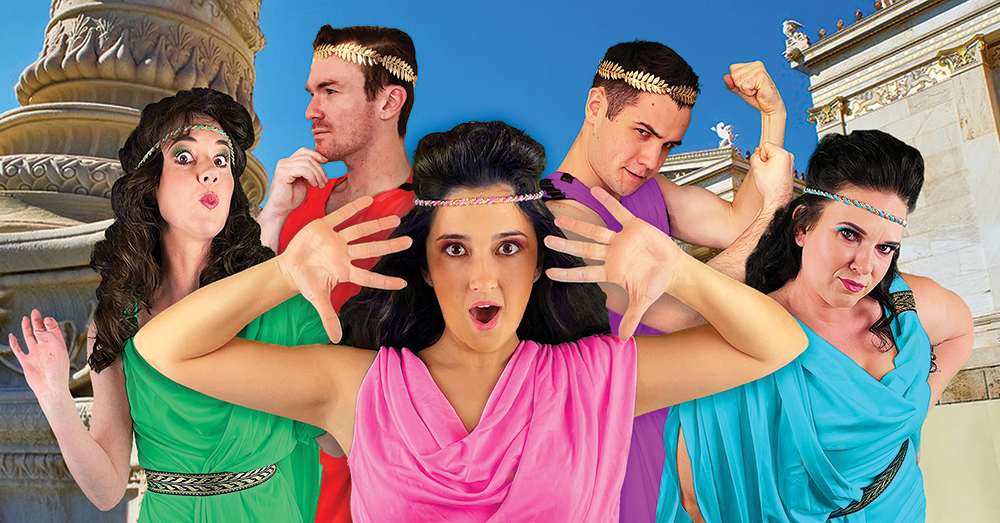 Speaking of talent… if you saw The Marvelous Wonderettes, then you know the work of the wonderful and talented actress Arianna Reyher! You'll remember Ms. Reyher as the straight-laced, cat eye glasses wearing ingenue who had a thing for Mr. Lee. She is playing the lead, Kira, in Xanadu and will make you forget all about Olivia Newton John when you hear her belt out "Xanadu!"
Kevin Ganzekaufer hails from Long Island and is flying south for this production to play the role of Sonny. Mr. Ganzekaufer's most recent credits include Claude Bukowski in Hair, but we affectionately refer to him as "the guy who did a dive roll, popped back up, and went straight into a jazz turn in his dance audition." His fun and zany energy is perfect for the role of Sonny and will surely make you laugh as you fall in love with his character.
Our patrons who have been with us for a while may remember the dynamic Adam Silory! Mr. Silory hails from Michigan whose ECTC credits include: First Date, Dancing Lessons, Around the World in 80 Days, The Fantasticks, and Buyer & Cellar. Mr. Silorey is playing Danny/Zeus in Xanadu and with his sharp comedic timing is sure to bring the laughs!
The rest of the Xanadu cast is a mix of some of your favorite local ECTC actors and a few very talented regional actors we are bringing in just for this production: Fort Walton Beach locals Abigail Huhtala as Melpomene and Hillary Marshal as Calliope join the cast, as well as Meghan Horrigan as Erato and Arin Walker as Eturp- both from Niceville. Samantha Savoie is our Featured Dancer/Aerialist and resides right here in Santa Rosa Beach, while the rest of the cast is rounded out by our out of town talent. Seth Patterson as Thalia (New York, N.Y.) and Josh Hudson as Terpsicore (Eatonton, Ga.).
After May at ECTC we head into all of our summer programming. The Tempest, a part of the Coastal Culture Series through Grand Boulevard, is the free Shakespeare in the park offered on Theatre Thursdays at Grand Boulevard. We also offer a wide variety of summer camps for kids (some of which are already full. So, sign up NOW at emeraldcoasttheatre.org/summercamp), and our SummerPOP Fundraising series featuring Peter Lake, Comedy on the Boulevard, Dread Clampitt, and maybe a few other surprises!
Behind the scenes we are working on Season 10, if you can believe it! Though we cannot reveal specifics yet, we can promise you that this next season is going to be bigger and better than ever! Bigger shows, thrilling musicals, engaging plays, dynamic children's educational programming, and all kinds of great ways for us to show love to our community! We look back on the last 10 years with so much gratitude in our hearts at how you, our community, has supported us.
We are here for you. To entertain you, to enrich our community, to bring joy and life to everyone that comes into our space at Grand Boulevard in Sandestin. We look forward to seeing all of you here at ECTC!
In May:
Xanadu, May 13 – 22
Thursday – Saturday at 7:30 p.m., Matinee Performances Thurs., May 19 & Sundays at 2:30 p.m.
For more information call (850) 684-0323 or visit emeraldcoasttheatre.org.