Are you shopping for countertops? We have our top choices for countertops to share with you. Whether you are looking for granite, quartzite, or marble, we will guide you on the newest colors and trends for your upcoming project.
Many of you may not be aware of this, but Panama City Beach has its own stone yard that supplies all the local fabricators. If you are out shopping for countertops, Omicron is a great place to start. Omicron has a large warehouse open to the public with a variety of quartzites, marbles, granites, and quartz.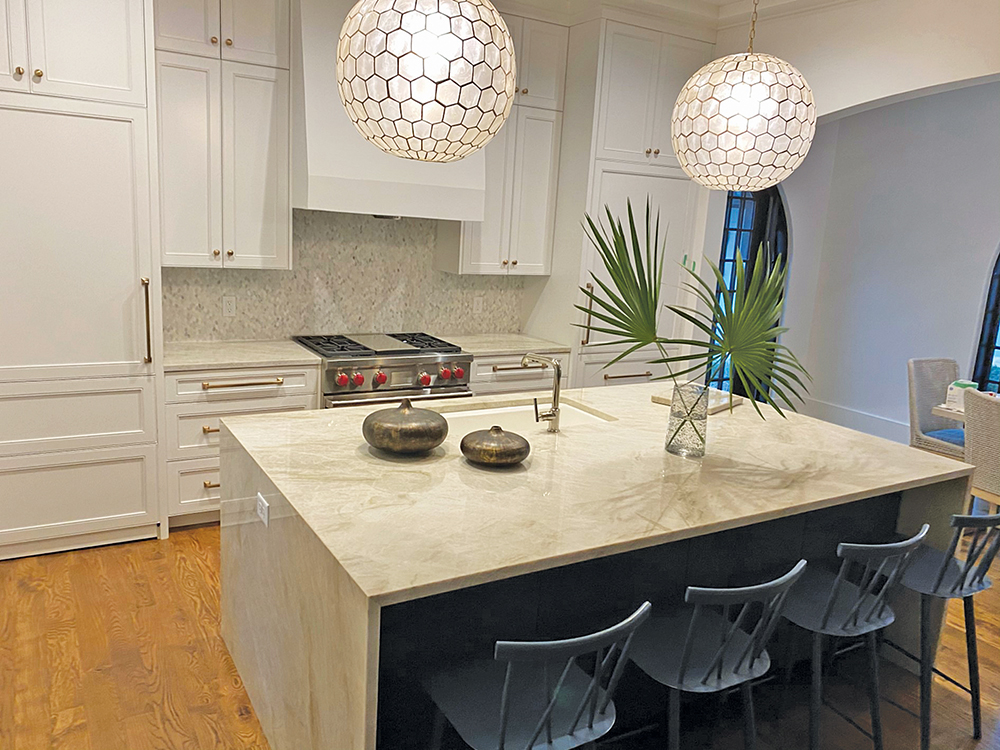 One of the top trends in countertops right now is hard marbles. Unlike Carrara and Calacatta marbles that are mined out of Italy, these beautiful hard marbles are being mined out of Brazil and are considered a dolomite marble. They are a much harder stone like quartzite or granite. Whether you have a modern home, farmhouse style home, or a coastal cottage style home, there is a hard marble that will suit any of these styles. Marble is timeless and gorgeous and creates a beautiful and cozy space. These stones have a variety of soft hues and will compliment many color schemes. The most popular hard marbles right now are Tesoro Bianco, Shadow Storm, Fantasy white. New stock has just arrived at our local Omicron called Shadow Blue which is also stunning.
Quartzites with light, neutral hues are also a top trend right now. Taj Mahal Quartzite, which comes from Brazil, is a beautiful choice for a coastal home. It has soft hues of creamy white, soft browns and golds and sometimes some subtle greys with extraordinary and unique movement. This stone has withstood the test of time and continues to be on the list of top picks for countertops. Unique quartzites with soft hues of grey and white are the trend right now and we love the slabs of Matarazzo Supreme that just arrived at the local stone yard, Omicron. The slabs of Matarazzo quartzite available locally are rare and unique with hues of warm greys and whites.
We cannot discuss countertops without talking about granite. Mona Lisa granite is a top choice for countertops on the coast right now. It is a white and grey granite with subtle hues of browns and blues going perfectly with our coastal atmosphere.
Granite Plus is one of your local fabricators and looks forward to assisting with your new countertops. Being in the stone business, we look at hundreds of slabs a week. You would think we would get tired of it, but we continue to be amazed that nature gives us these beautiful stones to put into our homes. Shopping for countertops is an adventure, so enjoy your journey at the local stone yard and at your local fabricators as you pick your new countertops.