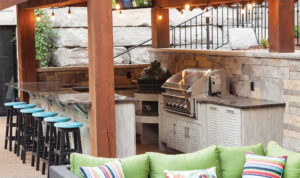 Oh, how we love the outdoors this time of year! I could probably do without the time change, but I love to sit by the fire with friends and family, winter cocktail in hand, grill sizzling outside, enjoying the cooler weather. If you spend as much time as I do outside, the design of your outdoor space is as important as the design of your indoor space. I have some resources to guide you through designing your outdoors whether it is new construction or renovation.
If you are thinking about building an outdoor kitchen, NatureKast Cabinets are revolutionary. They are built to withstand any weather and the door styles and colors are beautiful. They have a stunning finish from a resin that reflects cypress or teak in look and to the touch, but they are actually made from PVC. Some of you probably already know that wood cabinets do not hold up in our elements. Their cabinets are 100% waterproof and won't warp, fade, or crack in the elements. If you would like to view all of their finishes and cabinetry, you can visit Naturekast.com. Their Weathered collection is stunning.
When choosing a countertop for outdoors whether it be for a bar top for your pool or an outdoor kitchen, you can choose from most natural stones such as granite, quartzite, dolomite and some hard marbles. A leathered or honed natural stone is a beautiful choice for the outdoors. Quartz has become an increasingly in-demand choice for countertops due to its easy-care qualities and the soft light colors that are popular in design right now, but quartz cannot go outdoors. Caesarstone Quartz is the only company that I am aware of that has crafted a quartz that can go outdoors. Their outdoor collection has three simple and soft colors, Palm Shade, Midday, and Clear Skies which you can learn more about at Caesarstoneus.com. Dekton by Cosentino or Neolith are another option for outdoor spaces. Dekton and Neolith are a crafted, porcelain product that is stain and scratch resistant and offers a wide range of colors that look like natural stones. If you are looking for a marble look for the outdoors without the maintenance of marble, this would be a great option for you.
When designing an outdoor kitchen, It's a good idea to choose your appliances. What type of grill are you going to have? Will you have an egg? Are you putting a sink in your outdoor kitchen? To design an outdoor kitchen, these are key elements your project manager will need to know. It is also helpful if you have a budget in mind and let your project manager know so they can guide you in the right direction.
If you are designing an entire outdoor space with a pool, maybe a hot tub, possibly a fire pit, and an outdoor kitchen, Southern Blue Construction can guide you. They are a family owned business located in Freeport, FL and have created many beautiful outdoor spaces in our area. You can visit SouthernBlueConstruction.com to view inspiration for your new outdoor space and to learn more about them.