It's finally starting to feel like fall outside and we are all ready for some pumpkin spice in our spaces! I know that many of you (if it hasn't happened already) are about to change the entire décor of your house inside and out. We also know there are some hard-core shoppers out there already preparing for Christmas. To help you get in the holiday spirit, we've pulled together a list of some of our favorite boutiques. They bring in new items regularly so don't forget to check back for special gifts and seasonal decorations as we head into winter.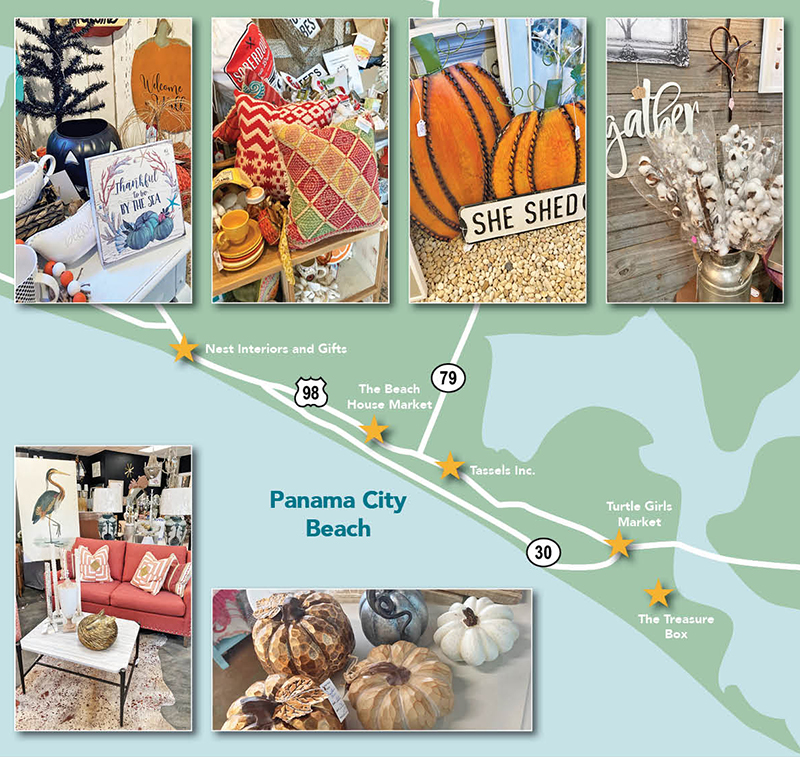 Tassels Interiors is owned by Linda Mugglin, a local interior designer. Tassels has been designing spaces in Panama City Beach for over 15 years and they have a location at 12017 Panama City Beach Pkwy., Panama City Beach that's full of gifts, unique art pieces, lighting, furniture and more for all your fall and winter needs. One of my favorite fall items from Tassels is their animal print rug. They just scream cozy fall and make for a great gift.
The Beach House Market is the next stop for your fall shopping. Locally owned and operated by Tina Patterson, they have been here for over 15 years and are located on the west end of the beach at 17900 Panama City Beach Pkwy. They have a wide variety of antique furniture, lighting, art, gifts, and more. Vintage tea towels, praline mustard glaze, golden pecan pepper jelly, and some lovely brass pumpkins are a few of my favorite fall items available at the Beach House Market.
If you have your husband with you, The Turtle Girls Market is great stop for you as right next door is the House of Handsome Barber Shop where your husband can get a haircut, beard trim, barber steam facial, and even some nose hair waxing if needed. For all the local men that didn't know this existed, you're welcome! The Turtle Girls Market is located at 7930 Front Beach Rd. and is locally owned by Laurie Berger, It and has multiple vendors inside with lots of antique and handmade treasures for fall not to mention a great selection of unique Christmas gifts.
Nest Interiors and Gifts is located on the west end of Panama City Beach at 21901 Panama City Beach Pkwy. Owned by Andrea Mauldin, a local interior designer, Nest Interiors offers design services, but also has a boutique store with lots of beautiful treasures for décor and those special Christmas gifts. You will love her pumpkins made from velvet and her fall jewelry.
The Treasure Box will be your next local stop for fall décor and Christmas gifts. Locally owned by Chris and Michelle Mauldin, it is located on Thomas Drive and if you blink, you might pass it. It is at 1711 Thomas Drive and full of treasures for inside and outside whether you're in search of décor for fall or that special Christmas piece.
A couple of other unique boutiques around town that I would like to mention are The Salt Shed, Bob's House Furniture, and the Salty Mermaid Marketplace. All of these local shops are very welcoming with great people. We hope you enjoy your shopping treasure map and shop local this fall for all your décor and special Christmas gifts!