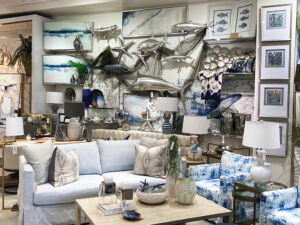 Oh, how we love the sea and all of its textures and colors which inspire us when it comes to design. Starfish, Sailfish, Mahi Mahi, Whales, Angelfish, and many other magnificent creatures inspire artists around the world, and Kim from 13 Hub Lane brings some of this beautiful art to Panama City Beach so we can find that special piece for your home. You can find a collection of paintings, drawings, sculptures, and more at both locations.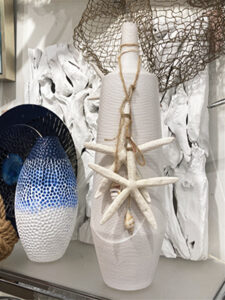 When designing or remodeling your space, the balance of color and textures is important. We love this featured collection from 13 Hub lane. A Variety of blues and grays, the simple artwork of lines and colors of the sea, seashells and patterned canvas chairs for texture, and some beautiful nautical inspired vases and lamps come together for the final touch. Combining these items can be a tricky thing, but the team at 13 Hub Lane offers free design services to guide you whether you are building a new home, remodeling or just need some items to freshen up what you have.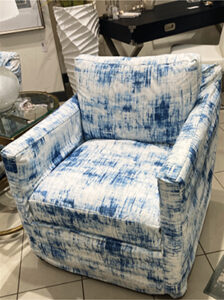 As we remodel and refresh our homes, we are always looking for unique décor, but almost as important as décor is functionality. Sofas and chairs with slipcovers are one of the best options for functionality in a rental or beach home. They wash well and can be washed over and over, which is amazing. Featured in this collection is a soft blue woven slipcover on the sofa, while the chairs have slipcovers that are a soft woven fabric with this fun, beachy, Shibori tie dye pattern. Both would be so cozy after a long day at our beautiful beaches! 13 Hub Lane offers a huge selection of durable and washable sofa and chair slipcovers in different colors and designs inspired by the sea.
If you are not familiar with 13 Hub Lane, they have two locations, one at Pier Park and another location at 17203 Panama City Beach Pkwy near Hwy 79. Kim and her team of designers are so nice, and always happy to help you design your new space whether it is a new construction or remodel of your home or vacation rental. Their business hours are Monday – Friday 10 a.m.- 6 p.m. and Sunday 12-6 p.m.