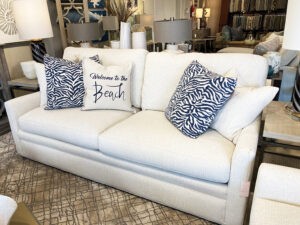 July is here! Red, white, and blue décor can be found in almost every store, the smell of grilled food and long beach days are in the air. We thought in celebration of July 2021 we would give a little insight on interior products that are made right here in the U.S.A.
If you are looking for furniture and home accessories made in the U.S.A., 13 Hub Lane has all you need. They have a wide array of furniture and accessories from Sherrill, Norwalk, and Four Seasons just to name a few. Sherrill Furniture, available at 13 Hub Lane, is a fine example of American hand craftmanship. Fabrics, finishes, trims, and all parts of their furniture are made in Hickory, North Carolina, and their fabrics are stunning. You can visit 13 Hub Lane and their designers will guide you in finding furniture made right here in the U.S.A. Kim and her team of designers offer free design services, and you can visit either one of their locations here in Panama City Beach.
Many of you may be familiar with the name Daltile. They are the country's leading manufacturer of tile. Daltile also has a beautiful quartz line, One Quartz Surfaces, that sings "made in the USA" with colors such as Freedom Calacatta, Washington, Independence Calacatta, and Liberty Gold. Their quartz comes from a plant in Dickson, TN. If you are looking for countertops that are light with some veins you can check out their National Marble American Reserve collection. If rather you are looking for a quartz that is a little bit softer in pattern you can check out their Historic American Reserve Collection. To find out more information on this quartz line, stop by the Granite Plus showroom to see samples or visit Daltile.com.
Viatera Quartz is a line that is manufactured in North Georgia. Viatera offers some unique quartz colors and finishes. Their newest colors, Calacatta Sol and Calacatta Plata, are beautiful and what our clients have been looking for, a soft white quartz with veins of warm hues: absolutely alluring.
Cambria Quartz is another option if looking for countertops that are made in the USA. Cambria is an American Company that is family owned and operated. Their innovative quartz comes from Minnesota, and they offer a wide range of unique colors that are perfect for our beach life.
Daltile, Viatera and Cambria have exceptional durability, are of high quality, and do sustainability testing in their plants. They are innovative not only in patterns but also in manufacturing processes and they all offer a warranty on their products. If you have any questions about purchasing countertops or cabinetry made in the USA, you can stop by the Granite Plus Showroom at 17801 Ashley Dr., Panama City Beach and our project managers will be happy to assist you. We do free estimates and are open Monday – Saturday.