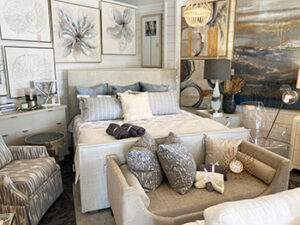 It has been an interesting year for construction and design in our area. If you are rebuilding your home from Hurricane Michael, building a home, or doing a remodel at this point, you already have experienced some sort of delays, price increases, or inventory availability. Windows, doors, appliances, cabinetry, tile, flooring, furniture, lighting, rugs: the list goes on for items that are backordered, delayed, had pricing increases, or are indefinitely out of stock. There is good news though. Small businesses in our area like Granite Plus and 13 Hub Lane are savvy, and constantly searching for new resources.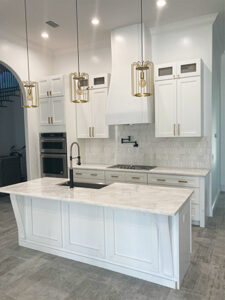 At Granite Plus, we have experienced delays with custom cabinetry, and it continues, but we can prepare our clients for this. Custom cabinetry used to take four to six weeks for delivery, but now it's up to 13 to 15 weeks. In the past, cabinetry was ordered once drywall went up but we are working closely with contractors and clients to be able to order cabinetry in a timeline that will work for their project. We are ordering at earlier stages of construction to ensure our clients still get cabinets once they are ready. Along with our two custom cabinetry lines, DuraSupreme, based out of Minnesota, and Trucabinetry, which is based in Alabama, we have added two additional cabinet lines that have a faster turnaround time. Our newest line, Northpoint Cabinetry, can be onsite in five business days from the order date, which is very exciting. Their selection consists of all wood cabinets, and dovetail construction with soft close doors; they're available in white, grey, and espresso. We expect lead times for custom cabinetry to go down towards the end of the year, but for now, if you need custom cabinets in the fall, plan to get started as soon as possible. For countertops, there have been only minor delays in natural stone and quartz.
The same time frame goes for furniture, lighting, rugs, etc. but the interior designers at 13 Hub Lane work closely with their clients. They will guide you through this climate and help you find some in-stock options to keep your project on time. They offer free design services and you can also shop from your home at 13hublane.com.