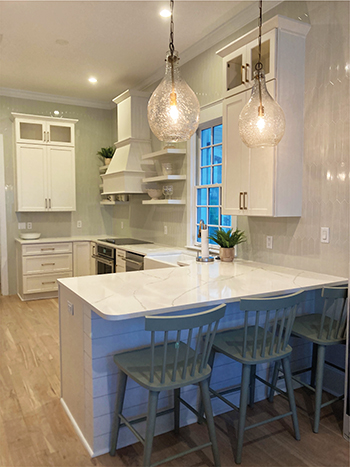 We are so excited for spring and summer home trends! They are fresh, clean and airy. Get this look with light and subtle hues of whites, greys, and blues, together an alluring color palette and perfect for a beach home.
To get this look, let's start with cabinetry. The color white seems like such a simple choice, but there are a wide range of whites available. For cabinetry, keep away from bright white and go with a soft white cabinet color to get this look. Eliminate some upper cabinets and add some open shelving. This will give your kitchen more dimension and create an airier space. Adding glass doors to some of the uppers adds to the airy feeling of this kitchen. Go with a painted hood for this look. We love this hood from Tru Cabinetry and it really makes this kitchen design by adding dimension and a strong focal point to the space. Select soft metals for plumbing fixtures and hardware such as satin nickel or satin bronze for this look. The simple satin bronze handles in this kitchen is a great choice. This is a Sutton pull from Hardware Resources available at Granite Plus.
Those countertops though! Always one of the most exciting things to choose when designing a new space! To get this look, Calacatta Ultra quartz or Calacatta Trevi quartz from MSI Surfaces are great choices. Both quartzes are white with soft grey veining. Natural stone options in this color palette that would work well with this look are White Macaubus quartzite, Mystery White marble, or Tesouro Bianco marble.
When selecting a backsplash for this look, find something solid with interest. Pictured here is a solid glass picket tile. Placement of this tile really adds to the look. Here the tile goes all the way to the ceiling eliminating any tile lines visually, really adding to the seamless look of the space.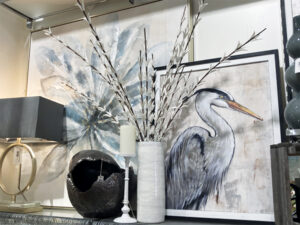 When deciding on paint color, flooring, window coverings, lighting, furniture, and accessories, Kim Lyon and her team of interior designers offer free design services and will guide you through your entire project. When designing a new space, I know myself, there are always mixed emotions. It is very exciting and overwhelming at the same time.
Everything is an investment, so having an interior designer guide you through this process is very helpful. The Interior designers at 13 Hub Lane will work with your budget and come up with a game plan to create a space you will love whether it is new construction or a remodel.
Visit graniteplusfl.com or 13hublane.com for more information.