Celebrating 16 years of caring for the Bay County community, Dermatology Specialists of Florida continues to add updated technology, new providers and expanded services to ensure comprehensive skin care for patients of all ages at both their Panama City and Panama City Beach office locations.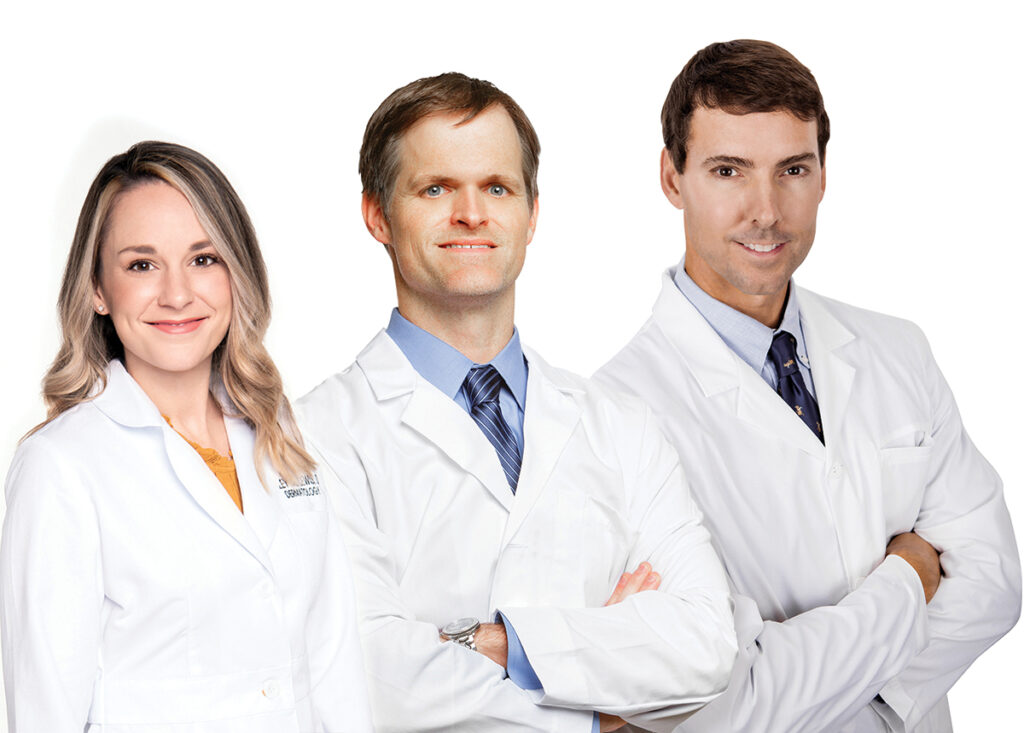 Patients of Dermatology Specialists of FL and Aqua Medical Spa have access to a skilled team of physicians, certified physician assistants and aestheticians who are trained in the medical and surgical subspecialty of dermatology. Physicians and co-owners Jon Ward, MD and Michael Stickler, MD have each performed over 20,000 Mohs micrographic surgeries to successfully treat skin cancer in patients under their care. They are proud to have both recently passed the American Board of Dermatology's 2021 Micrographic Dermatologic Surgery Subspecialty Certification Examination making them among the first in the nation to be double board-certified in dermatology and Mohs micrographic surgery. A certification in this subspecialty demonstrates a high standard of knowledge and skill in Micrographic Dermatologic Surgery, along with a dedication to life-long learning in the field.
Dr. Haley Lewis, a Bay County native, joined Dermatology Specialists of Florida in September 2021 and sees patients at both the Panama City and Panama City Beach offices. Dr. Lewis earned her medical degree at the Alabama College of Osteopathic Medicine in Dothan, completing her residency in dermatology at Goodman Dermatology in Atlanta, Georgia. She also holds a Master of Public Health degree and a Bachelor of Science degree both from the University of Florida. While in her residency, Haley also co-authored several articles, one of which has been published by the National Center for Biotechnology Information and another presented at the American Academy of Dermatology's Spring conference.
"I am very excited to welcome Dr. Lewis to the practice," said Dr. Ward "She worked as a medical assistant for us in 2007, before deciding to go to medical school and we always hoped she would return here to practice medicine. She is going to be a great asset to our team and to the community."
Rounding out the professional team of providers at Dermatology Specialists of Florida are certified physician assistants Angela Danley, Barry Newton, Ariel Perry, and Heather Preisser. Having a full team of committed and experienced skin care experts allows us to offer patients quick access to care. In fact, our pledge to patients is "Call today and be seen this week." You can trust our experts to care for everything from skin cancer diagnosis and treatment, including Mohs micrographic surgery and Superficial Radiation Therapy (SRT), to acne, rashes, and chronic skin conditions such as psoriasis.
To ensure we offer comprehensive skin care to include medical, surgical, and cosmetic, we have a full menu of anti-aging services available through our Aqua Medical Spa. We offer complimentary consultations with our aestheticians Mary-Catherine Dismukes or Meredith Murphy in Panama City and Brittany White in Panama City Beach. Their treatments include facials, chemical peels, Coolsculpting and more. For a full list of services or to shop for medical-grade products online, visit AquaMedicalSpa.com.
For more information on Dermatology Specialists of Florida or to schedule an appointment, please visit MyDermSpecialists.com or call (850) 233-3376.