By Brittany Kirke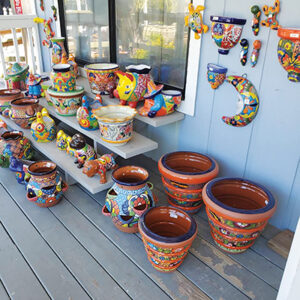 Autumn is around the corner and our yards will soon be full of decorations to match the mood. With new arrivals every week, PCB Pots and Planters is the spot for high quality décor for your dream landscape. Since June of 2018, they have provided excellent service to their customers from Panama City Beach and the surrounding areas of Fort Walton Beach, Navarre, Pensacola, and Port St. Joe.
Denise Tehrani and the team at PCB Pots and Planters will be there to welcome you and assist in your venture to find the right piece, part, or collection for you. They are open seven days a week from 8 a.m. to 6 p.m. They distinguish themselves in the area with their charming selections of Mexican Talavera and Chimineas. Hand crafted and painted, they are sure to stand out brightly and make your garden the best on the block!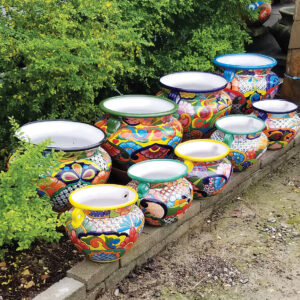 When asked about why she decided to enter the pottery business, Denise spoke on her adventures to Lowes and Home Depot to spruce up her garden, saying that "there was nowhere locally at the time with as big of a selection [as our own]." With something for everyone, they maintain the largest selection of unique pots and planters in the Florida panhandle. The pieces you find at PCB Pots and Planters are imported from different countries around the world such as Vietnam, Malaysia, Mexico, and several others. In addition to their pottery, they offer wind spinners, standout garden décor, and magnificent fountains. If you need it to be delivered or would like for it to be installed without all the hassle, they would be more than happy to arrange a delivery for your new piece of art.
To learn more or if you want to see what all they have to offer, drop by their location at 12405 Panama City Beach Parkway, Panama City Beach, FL 32407. If you have any questions or are looking to get a quote, please call (850) 960-POTS (7687) or visit their website pcbeachpotsandplanters.com. They are also on Facebook and Instagram @pcbpotsandplanters.