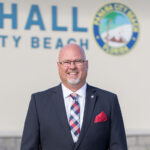 By Mayor Mark Sheldon
This is my favorite time of the year. I enjoy gathering with family and friends to celebrate the season. In doing so, we are also honoring what it means to be a family. There is a togetherness, a unique bond, which we treasure especially around the holidays.
Christmas is steeped in tradition and cherished family memories, and despite economic conditions or personal trials, we can remain focused on the good. Though 2021 has had its share of challenges, I still find it encouraging when I take a step back and reflect on our many blessings.
As a resident of this community, I recognize Panama City Beach has much to be grateful for. Our community did not endure the major financial downturn experienced by many across the United States. Even with a resurgence of COVID-19, higher prices, and a shortage of workers, our tourist-based local economy has prospered. Tourists and transplants continued to come to the beach, and many made Panama City Beach their first or second home. For a community like ours, not funded by property tax, that is crucial.
As a community, we accomplished much this year. From the opening of the second phase of Philip Griffitts Sr. Parkway to the start of Segment 3 of the Front Beach Road Community Redevelopment Area (CRA), to a commitment from the Florida Department of Transportation to move forward with plans to six-lane Panama City Beach Parkway, we have made progress on solving this community's greatest challenge. As we look forward, traffic will ease with more capacity coming and multi-modal transportation options. And we are committed to finishing projects like these, improvements to Alf Coleman Road and other connector road projects, as we recognize we are in the midst of a huge growth spurt.
People continue to come to Panama City Beach, recognizing our City as a great place to live, work, play, raise a family, visit and retire. And you, the people of this community, contribute greatly to our City's brand and good reputation. We are home to the world's most beautiful beaches, and I would say, some of the world's friendliest and most generous people. Southern hospitality is real in our community. For this, I am thankful.
This year I would like to especially thank the more than 370 City employees for their dedication and commitment to our community. Their service daily meets the needs of our residents, commuters and visitors. I appreciate all they do to keep this City running smoothly.
We are grateful, too, for the sacrifices made by our public safety personnel and our men and women in the armed forces who continue to protect our nation and our community and do all they can to keep us free.
As we move into 2022, it is with a resilient spirit and a hopeful heart. We have much to look forward to in the new year. Property values are up and progress is being made across the board with our streets, storm water, utilities, wastewater, building and planning, parks and recreation, and more.
This holiday season, I would encourage you to reach out to your neighbors and friends who may be without family. Include them in your festivities when you can. May a giving spirit encourage you to volunteer, adopt a family for Christmas or organize caroling in your neighborhood. Give joy to someone this holiday season.
From my family to yours, Merry Christmas, and have a prosperous New Year!
If you have concerns or questions you would like Mayor Seldon to address, email Communications Director Debbie Ingram at debbie.ingram@pcbfl.gov.