By Britt Smith, Principal, J.R. Arnold High School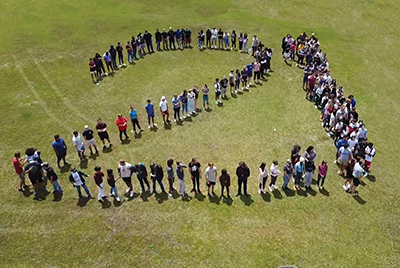 As we approach the end of another school year, the sounds of pomp and circumstance and graduation speeches will fill the air as we celebrate J.R. Arnold High School's Class of 2021. Students entering Arnold High School are told they will receive a "Triple-A" high school experience. Those A's stand for excellence in Academics, Arts, and Athletics. Looking back, we see where our Marlins in the Class of 2021 have made the best of their triple-A opportunities.
Academically, our Marlins have been accepted to some of the nation's most prestigious colleges and universities. Emma Shockley and Sanjana Patel will become Ivy Leaguers as they pursue degrees at the University of Pennsylvania. Vanderbilt University has awarded Habib September the Chancellor's Scholarship as he will attend their school this fall. Over 25 Marlins were accepted into the University of Florida and/or Florida State while others will be attending colleges and universities such as Alabama, Auburn, Miami, UCF, and the University of California. In all, 13 Marlins will graduate with the prestigious distinction of being AP Capstone Graduates!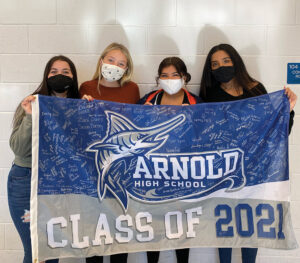 We are very proud of our Marlins who have committed to serve in the military. For example, Jordan McConnell will be attending Texas A&M University on scholarship in pursuit of his dream of becoming a pilot in the United States Marine Corps. Several Class of 2021 Marlins have already decided their specific branch of service and desired military occupation. We salute Ethan Lee USN (Diver), Marcus Lee USN (EOD), Nathan Pesate USMC (Avionics), Antonio Razquin USN (Avionics; applying for Diver) for their upcoming service and willingness to defend our nation as members of this country's military.
Artistically, Jenya Lynn Gonzalez has transformed her knowledge and experiences as a member of Arnold's drama program into becoming a published playwright. She already has a play published and available to be performed internationally! We wish our Seniors in the Blue Thunder Band the best as they move on with aspirations of continuing their careers in college bands across the southeast.
Athletically, the Class of 2021 represents the most decorated group of teams we have ever had don the blue and grey. During their time at Arnold, the Class of 2021 won 4 FHSAA State Championships and 1 State Championship Runner-Up title. Amerie Daniels, Emily Oliver, Sana Habib, Myles Higby, and Jaden Lombard combined to win 7 individual FHSAA State Weightlifting Championship titles during their careers. Along the way, Arnold's Class of 2021 earned more than 40 Regional, District, and County Championships. Our Marlins have experienced appearances in 5 Final Four, 6 Elite Eight, and 8 Sweet Sixteen FHSAA games. To top it all off, they were also recognized with the most recent FHSAA State Sportsmanship Award!
Despite the challenges of interrupted school during three of their four high school years, the legacy left by Arnold's Class of 2021 is impressive and certain to only be surpassed by what they will do to make our community, state, nation, and world a better place as a result of their contributions. Congratulations and Godspeed to the Class of 2021, you have made us Marlin Proud!
#Gomarlins!