A little bit of HGTV has made its way to Panama City. Christina Haack, best known for her series "Flip or Flop" with her ex-husband, Tarek El Moussa, and "Christina on the Coast" has launched a new flooring line—and it's sold exclusively right now in Bay County at Flooring Depot of Panama City.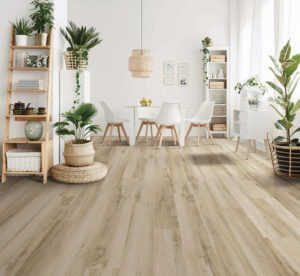 The line features 21 different colors and styles, all hand-selected by Haack. The flooring is both scratch-resistant and waterproof, so it is perfect for high traffic areas and made for families that have children, pets or both. The flooring line is being distributed by Flooring Lines of Los Angeles.
In an Instagram video announcing the new line Haack says, "This flooring is a cumulation of years of progress and I'm so excited. We have 21 beautiful colors, and it is extremely durable. It's kid friendly. Dog friendly, but also looks amazing."
"We are excited to showcase the Christina Collection," says Kristen Carter, sales manager for Flooring Depot of Panama City. "The product is made to last and comes with lifetime warranties for both residential wear and waterproofing. It has the DiamondWalk Waterproof Flooring seal."
Color options range from light to dark and can be used in any design aesthetic. "The colors and options are beautiful and reflect her style and design," says Carter. "You can use these colors in any style home–from beach, to farmhouse chic, traditional and modern. There is something for everyone."
The flooring is an SPC product, otherwise known as stone plastic composite or stone polymer composite. It is rigid core luxury vinyl flooring. The rigid core makes it extremely durable, and it can be installed on almost any surface, including uneven subfloors.
What makes an SPC floor so durable? It has multiple layers. The first layer is attached underlayment. This is really the foundation of the product. With this layer, there is no need for added underlayment, it absorbs sound, and it makes the product comfortable to walk on.
The next layer is the rigid core. It's stone plastic or polymer composite and designed not to warp or bend no matter the amount of water that it is subjected to. It's not as soft, but it is durable.
The next layer is the luxury vinyl print. It is a high-quality image and gives the floor the aesthetic looks the designer intended. Last, but not least, is the wear layer. It helps protect against scratches, makes the product easy to clean and is stain resistant. The Christina Collection comes with a lifetime residential wear and waterproof warranty.
"We are excited to offer the Christina Collection to our customers at both of our locations. Our main showroom on 15th Street as well as our new location on PCB Parkway when that store opens on October 1," says Carter. "We are always looking to add to our selection and to give our customers the most innovative product options and designs. We feel like this is going to be a great partnership with the Christina Collection and Floor Lines."
About Flooring Depot of Panama City: Flooring Depot of Panama City was founded in 2018 and is family-owned and operated by Barry McEntire, who previously owned one of the top 50 retail flooring businesses in the United States. Flooring Depot offers the largest showroom and selection in Bay County. On October 1, 2021, Flooring Depot opened a satellite store at 19700 PCB Parkway in Panama City Beach. The beach location will also carry the Christina Collection.