The Panama City Center for the Arts opened three new exhibitions to the public on November 5.
Carol Mitchell's work will be on display in the Main gallery, Megan Mueller will be featured in the Miller gallery, and students from Square Pegs will have their artwork on display in the cafe.
There will not be an opening reception due to The Songwriter's Festival, taking place November 5th and 6th. However, a "Meet The Artists" reception will be held on Friday, November 12, from 5-7 p.m., with complimentary refreshments.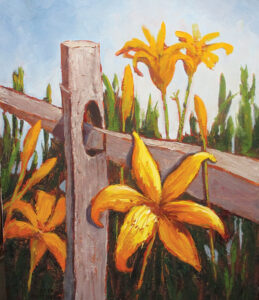 As a prominent member of the arts community, you may recognize Carol Mitchell's work in the main gallery this month. Though she grew up on Long Island's Atlantic coast, she found her way, along with her military husband, to Panama City in 1988. In 1990, with a studio perfect for painting and teaching, she began teaching oil painting at the Visual Arts Center (now known as our Center for the Arts) and taught at the GCCC Encore Program.
Carol Mitchell began her artistic career as early as elementary school, with a great art teacher, art room, classes, and a club. While she earned a degree at Duke for psychology/zoology, art was put on hold until during her MA education program at Adelphi when she had electives teaching art.
Much of her inspiration and materials reflect the thrill she feels finding shells and driftwood. "When I joined the Gulf Coast Shell Club," said Carol Mitchell, "I found wonderful places to explore. Here the focus is on collecting and painting seashells, shell-craft, and making shell jewelry. What a way to combine shells and art." She also paints in oil, acrylic, watercolor, and hot wax batik.
As a beachcomber early on, upon her husband's retirement, they built a home in Apalachicola where Carol states, "the shrimp boats were a magnet for me to paint in oil, and soon I was selling these as well as seascapes. I started using painting knives, with delight in the texture."
Her love of travel led to Carol teaching arts and crafts on cruise ships. "It has been the best of all possible worlds for me — painting, travel, beach combing, and bringing joy to my students as they dive into painting too," said Carol. You can find Carol Mitchell's work also in our gift shop of local artists, she also exhibits and sells at the annual Gulf Coast Shell Club show in Panama City Beach.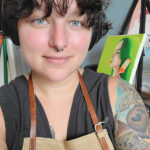 In the Miller Gallery, you will find local artist Megan Mueller's work. Growing up, her dad was in the military and they moved around a lot. From no place and every place, Megan was born in North Carolina and has lived in places as far reaching as Okinawa and as close as South Carolina. As an air force veteran, she came to Panama City in 2018 after being stationed here.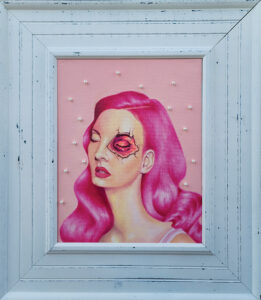 Megan had an early start to her artistic endeavors; as kids, her siblings and family were surrounded by art. With a dad who was really artistic, and a mom always cultivating and supporting their creative endeavors, art was just an innate feature in their lives. Now as a self-taught artist raising three kids of her own, to further her craft and skills Megan often embroidered in the car pick-up line or painted in the wee spaces of time between nap times.
When reflecting on when her artistic journey started, Megan states, "I've been doing art all my life and it's only recently that I started to get more deeply involved with it. I found that pursuing my art was something I had to do for my mental health."
Some of the special techniques used to make her artwork include working with mixed media – particularly embroidery and oil painting. Mueller starts each painting off with a sketch first and marks the background and area for embroidery with acrylics, then she embroiders by hand and goes from there.
She came into this style of art by simply exploring and trying different techniques. Her most significant inspiration for the work are her experiences as a woman – the good, the bad, and the ugly. Whether about trauma, joy, or resiliency, Megan's feelings about being a woman in this world spill onto the canvas in self-expression.
In her exploration of experimenting with mixed media, particularly the merging of what we might consider fine art and craftwork, Megan states, "Craftwork has been devalued as art and positioned as 'women's work' for so long, I want to show that you can do amazing and beautiful things with things like embroidery and it can be fine art."
Megan has been a part of the 57th and 58th Bay Annual Competition and Exhibition at the Center for the Arts, receiving a merit award at the 57th competition, but this is her first solo show.
The meaning behind this show depicts the struggle at the beginning of the pandemic with our mental health, our families, and the chaotic world developing around us. "In the wake of this, I turned to art," said Megan Mueller, "I knew I needed this avenue of expression or else I'd just sit and stew with all my feelings. I have loved each piece and am really proud of this show and the work I've produced." This exhibition will be a depiction of the struggle that all of us have faced since the start of the pandemic and the beauty that can come from it.
Ten students from the Square Pegs Learning Center in Panama City will be featured in our cafe gallery this month with their seasonal pieces of artwork. You can expect to see seasonal paintings from these young creative minds inspired by the changing colors of fall. When asked what it means to have their artwork on display in a show of their own, Bryson Phipps said, "it makes me happy and proud," along with their classmate Gabby Deleon who stated, "this means I'm getting better at art and can show it to the world."
"As an artist myself, I know how important it is for young artists to see their work on display in a gallery where their families and friends can admire their work," said marketing and exhibition coordinator Anastasia Dengerud, "I'm so glad we were able to give these students this opportunity and we hope to again in the future!"
Come support these students and our other featured artists this month by visiting the Center for the Arts, it is always free to the public.
These exhibits will be open through Saturday, November 27. The Center for the Arts will be open from 10 a.m. – 5 p.m., Tuesday–Thursday, Fridays, 10 a.m. – 7 p.m., and Saturdays 10 a.m. – 5 p.m.