By Ruth Corley, Public Affairs Specialist for BCSO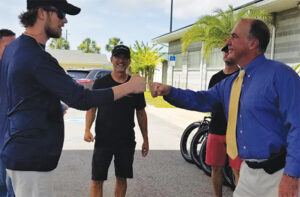 When you think of the Bay County Sheriff's Office, you probably think of the green and white patrol car and a deputy in a dark green uniform. There is now a new look to a special group of deputies who patrol your neighborhood on two wheels instead of four, and wear a helmet along with their bullet-proof vest.
Welcome to the BCSO Bike Unit, a unique group made possible by the generous donation of Brian Kelley, a founding member of the band Florida Georgia Line. The bikes are electric bikes made by YOLO, the Bolt model. Kelley donated twelve bikes and Sheriff Tommy Ford saw an opportunity to increase effective community policing in Bay County neighborhoods.
Sheriff Ford carefully selected his new team and they received additional training on care and maintenance of the bikes by Jeff Archer, the owner of YOLO. Archer had the bikes built and delivered to the Bay County Sheriff's Office the summer of 2020.
When canvassing a neighborhood on a bike, a deputy is able to see and hear more than he or she would if inside a closed vehicle. The deputy can respond quickly and quietly, often approaching without a suspect even realizing he's been spotted. This makes the Bike Unit an effective tool in neighborhoods plagued by vehicle burglaries or property crimes.
Patrolling on a bike makes it easier for deputies to get to know the people who live within a neighborhood, and to form positive relationships with youth. The Bike Unit gives Sheriff Ford one more way to serve the people of Bay County and keep them safe.