By Amelia Alvarez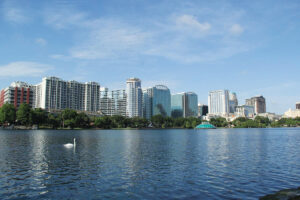 Orlando is hands-down one of America's favorite tourist destinations for its outstanding theme parks (Disney, Universal, Seaworld, anyone?). In fact, travelers from around the world drop thousands on dream vacations to this part of Florida. But what about the people that live in Florida? What about the people that want to go and get away from all of the tourists and the activities meant for tourists? There is actually a substantial short-list of things to do in the Orlando metropolitan area, whether it's culture, shopping or outdoor activity on the agenda.
For one, try a local farmers market. There are over ten in the Orlando area, and they aren't just on weekends (they even have a Monday market, the Audubon Park Community Market). Popular weekly markets include the Maitland Farmers Market (produce, crafts, and live music) every Sunday, 9 a.m.-1:30 p.m., the TPD Night Market, every Thursday and Friday from 6-10 p.m., and the Orlando Farmers Market at Lake Eola Park (downtown Orlando) every Sunday from 9 a.m. – 1:30 p.m. Along with the weekly farmers markets, there are also bigger markets that happen every few months such as the quarterly Milk Mart (with over 125 local vendors) and the Sanford Indie Market. Seek out local vendors selling vintage clothing from a remolded bus (Canyon Couture), seasonal candles (Many Mumbling Mice), and coffee (Totally Coffee), as well as jewelry (Tinker and Dabble), pet-friendly goods, and of course, seasonal produce.
Another great place about five minutes north of Orlando is Winter Park, the place where people go to retire (or so you thought). Downtown Winter Park is filled with lots of shops, restaurants, and sights. In fact Mister Rogers wrote "It's a Beautiful Day in the Neighborhood," about Winter Park, and there's even a walking tour associated with notable Mister Rogers' locations. Cultural types won't want to miss the Charles Hosmer More Museum of American Art with the world's largest collection of glass works by Louis Comfort Tiffany, or the Rollins Museum of Art, a college museum accredited by the American Alliance of Museums. For a mix of art and tranquil outdoor scenery, leave time for a detour through the museum, home, and gardens of Czech sculptor, Albin Polasek, situated on the banks of Lake Osceola. Round out your excursion with a stroll through downtown Winter Park, and stop for lunch at a spot like Briarpatch.
Looking for something outdoorsy? Try Kelly Park Rock Springs, a popular hangout for locals – so popular in fact that often before the park officially opens at 8 a.m. it's at capacity with many holding a ticket hoping to be able to come back in the afternoon. In fact, you might try to get there at about 6:30 a.m. on weekends just to snag a place. The park offers tubes you can buy or you can bring your own tube (under 5 feet). As well as being a great place to swim, the park has many deer, birds, turtles, fish, and the occasional otter.
If waking up at the crack of dawn to maybe get a spot at Kelly Park isn't your thing, try Wekivia springs instead. Wekiva Springs isn't just a swimming spring- it's also a place where you can rent a kayak or canoe and ride the run. At the end of the spring there's a great spot to jump in and swim. The park usually gets to capacity on a busy day by around 9:00 a.m., however on a slower day there is a chance you can get there at 1:00 p.m. and still get in.
Clearly, Orlando isn't just about meet and greets with Mickey or thrills and spills on the biggest coasters – so next time you're down in central Florida, consider setting aside a day to discover some of Orlando's lesser-known local treasures.