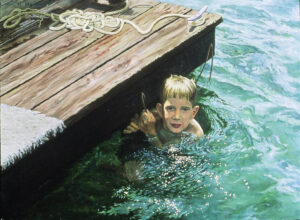 Local students and their art teachers take the stage this month at the Center for the Arts.
Every year the art teachers of Bay County schools choose the best art projects made by students throughout the year and display them in this spring exhibition that has been a tradition for more than 20 years.
"We're excited to show off the beautiful art that our students have been creating this year!" said Jessica Hughson, the vice president of the Bay County Art Teachers' Association. "The excitement on their face as they see their art displayed in a gallery for the first time is so great."
The Panama City Center for the Arts will host the Best of Bay County Schools exhibit running from Saturday, February 26 until Saturday, March 26. Due to the number of schools in the county and limited space in the Center, the exhibition is split into two parts. This year the elementary art projects were displayed February 26 – March 5, and the secondary/high school art projects will be on display March 11 – March 26.
The opening reception for the elementary school art took place Saturday, February 26, and the closing reception for middle and high school art will be held Saturday, March 26, from 1-3 p.m.
"This is one of the most important shows we do and it is always an honor to showcase the work of our community's youth," said Jayson Kretzer, executive director of Bay Arts Alliance. "We have seen this show help inspire students to pursue a career in art and we hope this year continues to spark that inspiration."
Featured in the cafe gallery this March will be local art teachers. Pieces by Dana McBee, Harry Hammond, and Siham Yassine will be on display for the duration of the month alongside their students.
The Center for the Arts is free to the public during regular business hours, Tuesday-Saturday, from 10 a.m. – 5 p.m. and Fridays 10 a.m.-7 p.m.